Shahzeb murder case: Shahrukh Jatoi, Siraj Talpur's death sentences commuted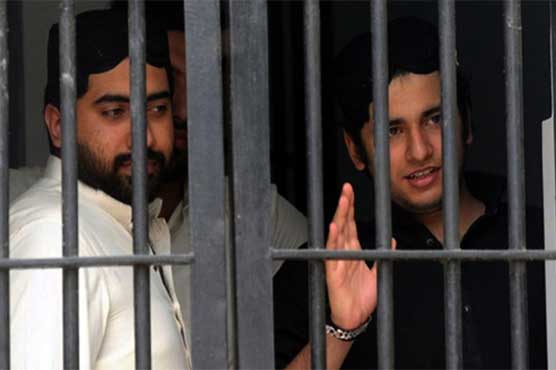 The court conducted hearing on the on appeals of accused against conviction in the case.
KARACHI (Dunya News) – Sindh High Court (SHC) on Monday has commuted death sentences of Shahrukh Jatoi and Siraj Talpur into life imprisonment in the Shahzeb Khan murder case.
The court conducted hearing on the appeals of accused against conviction in the case and announced the verdict. The life sentences of other two accused Sajjad Talpur and Ghulam Murtaza Lashari were also upheld by the SHC.
---
Case history
---
In June 2013, anti-terrorism court (ATC) had sentenced Shahrukh Jatoi and his friend Nawab Siraj Ali Talpur to death whereas two other accomplices were granted life imprisonment for murdering 20-year-old Shahzeb Khan on Dec 25, 2012 in Defence Housing Authority.

In 2013, an affidavit was filed with the court by parents of the slain student, Deputy Superintendent of Police (DSP) Aurangzeb Khan and wife in 2013 pardoning both the murderers and the accomplices.

Shahrukh had filed a review petition, stating that he was a juvenile at the time of the offence.

In December 2017, Jatoi and other suspects were released on bail on SHC order. The court ordered the suspects to submit surety bonds worth Rs5 lac for the approval of bail plea.

The decision was made after Shahzeb's father submitted agreement copy in the court. "Shahzeb's family forgave (Shahrukh Jatoi) in the name of Allah. They didn't take any cash," brother Ashraf Jatoi said while talking to media.