Last Updated On 05 May,2019 12:29 pm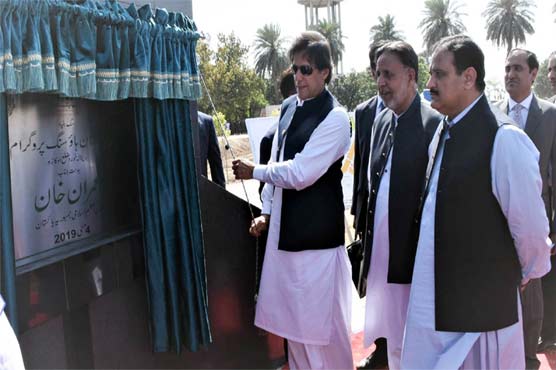 He will also meet CM Usman Buzdar and Governor Chaudhry Sarwar to examine administrative affairs.
OKARA (Dunya News) – Prime Minister (PM) Imran Khan on Saturday laid foundation stone of the Naya Pakistan Housing Scheme for the construction of low-cost housing units in Renala Khurd in Okara, during his a day-long visit to Punjab.
The premier addressed the foundation stone-laying ceremony, and asserted that the government aims to construct 5 million houses in five years.
He termed the project the one that requires strenuous effort, by stating "otherwise former governments would have done something about it."
"We have undertaken burdensome responsibilities and tasks as compared to previous governments," he continued.
He recalled "the Islamic model of welfare state of Madina" as an example and the first welfare state of the world, and stated that it was based on empathy, fellow feeling and a sense of togetherness.
"The welfare state of Madina even cared about animals," he maintained. "It elevated the poor segments of the society and thereby became a strong state."
The PM further said that without such attributes a society could not prosper, and in developed societies, the governments fulfill every fundamental need and requirement of the citizens.
He acknowledged the fact that Pakistan has been confronting tough economic condition. "Through mortgages, the low-income families will be given homes."
Regarding the housing project as a major breakthrough, he asserted that it would reveal many employment opportunities, and advanced technology would be availed from China for the construction of flats.
For the construction process, he said that banks will lend loans to the families, and even low-income families will be able to acquire those loans.
He revealed that as many as 40 industries will be established as the housing project commences.
Moreover, he said that the government plans to replace shanties by proper houses as people there have been living under destitute conditions.
The provincial cabinet of Punjab has already approved release of Rs5 billion to the Punjab Housing and Town Planning Agency for the project.
Later, the premier will hold separate meetings with Punjab Chief Minister (CM) Usman Buzdar and Governor Chaudhary Sarwar to discuss and examine matters of political and administrative affairs.
The meetings will analyse certain administrative matters and steps taken by the government for reforms in terms of public interest, development and prosperity.
Besides, the premier will inaugurate the world's largest picture wall inside Lahore Fort after its restoration and conservation process has been completed by the Walled City of Lahore Authority (WCLA), in collaboration with the Aga Khan Trust for Culture (AKTC).
The picture wall will be opened to the public soon after. Conservationists and architects from AKTC and WCLA had used certain methodologies to preserve the 350-foot long and 50-foot tall picture wall.
PM Khan is also scheduled to visit his alma mater Aitchison College.