PML-N re-organisation: Maryam becomes vice president, Khaqan Abbasi senior vice president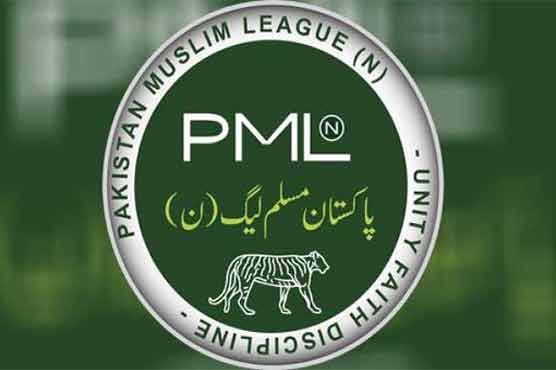 Appointment of party leaders have been made after consultation with party supremo Nawaz Sharif
LAHORE (Dunya News) – Day after Pakistan Muslim League-Nawaz (PML-N) President and Leader of the Opposition in National Assembly Shehbaz Sharif stepped down as chairman of the Public Accounts Committee (PAC), a major re-organisation has been announced in the party, Dunya News reported.
According to Dunya News, the PML-N president announced the re-organisation of the Party from London.
The appointment of party leaders have been made after the consultation with party leaders and supremo Nawaz Sharif. The names of party officials of Punjab, Sindh and Karachi have been announced with along with the central officials.
According to notification issued from London, Shahid Khaqan Abbasi has been appointed senior vice president of the party while Ahsan Iqbal has been made general secretary.
Party vice president include Maryam Nawaz, Abid Sher Ali, Sardar Ayaz Sadiq, Barjees Tashir, Darshan Lal, Hamza Shehbaz, Khawaja Saad rafique, Khurram Dastagir, Mian Javed Latif, Muhammad Zubair, Mushahidullah Khan, Nelson Azeem, Pervaiz Rasheed, Raheela Durrani, Rana Tanveer and Sardar Mehtab.
Former finance minister Ishaq Dar has been given the responsibility of president International Affairs Committee, while Noorul Hassan Tanveer has been appointed general secretary International Affairs Committee.
President Shahbaz Sharif, Shahid Khaqan Abbasi and Ishaq Dar will also be members of the PML-N Economic Advisory Council and Marriyum Aurangzeb has been retained as secretary information and spokesperson of the Party.
Syed Tariq Fatemi will be taking charge of the policy and research secretary and Shaza Fatima Khawaja is appointed as secretary of the parliamentary affairs, Ayesha Raza Farooq becomes secretary of membership and training while Romina Khursheed Alam will be at the helm of the HR and civil society.
Former defence minister Khawaja Asif will be taking duties as the parliamentary leader in the National Assembly, while Malik Ahmed Khan, a spokesperson for PML-N's Punjab chapter, is removed from his position.
---
Shehbaz Sharif extends London stay
---
On Thursday, PML-N president Shehbaz Sharif has decided to extend his stay in London on medical and legal grounds. The legal team of younger Sharif has advised him to prolong the stay till the details about the ongoing money laundering inquiries surface.
According to Dunya News sources, former CM Punjab will go through a medical checkup on May 8 in London.
The sources further said he may celebrate Eid in London. His son Salman Shehbaz, son in law Ali Imran and family of Hamza Shehbaz are already in London.
The sources said PML-N president is in contact with other leaders and will come back after receiving a positive signal.
The sources added that NAB inquiries are biggest hurdles in his return as he does not want to face those inquiries in hot weather with deteriorated health condition.
Shehbaz' legal team is busy compiling answers to be submitted in NAB and he is in touch with them.