Nawaz punished for being the voice of the masses: Maryam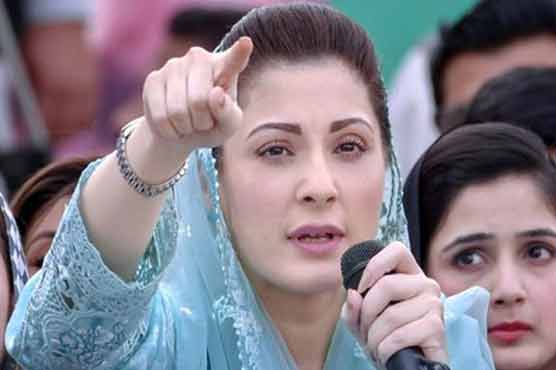 She said sacrifices her father is rendering will have positive results
LAHORE (Dunya News) – Pakistan Muslim League-Nawaz (PML-N) leader Maryam Nawaz on Friday said that former prime minister and party supremo Nawaz Sharif was not sentenced for any crime but for being the voice of the masses.
Hours after Supreme Court rejected the plea of the former prime minister seeking permanent bail on medical grounds, Maryam Nawaz took to the twitter saying Nawaz Sahrif was not facing 'punishment' for any crime but was sentenced for becoming voice of the masses.
She said that the sacrifices her father is rendering will have positive results, adding that this would be for the future generations of the country.
— Maryam Nawaz Sharif (@MaryamNSharif) May 3, 2019
Maryam said, "Nawaz Sharif will not let his followers down."
---
SC rejects Nawaz Sharif s petition
---
Earlier today, a three-member bench of the Supreme Court headed by Chief Justice of Pakistan (CJP) Justice Asif Saeed Khosa and comprising Justice Sajjad Ali Shah and Justice Yahya Afridi had rejected ousted Prime Minister Nawaz Sharif's review petition seeking an extension in his six-week bail in the Al-Azizia Steel Mills reference on medical grounds.
During the proceedings, Nawaz Sharif lawyer Khawaja Haris said as per court's verdict, his client can't apply for bail before surrendering himself to the authorities over which Justice Sajjad Ali said that whatever said prior to signing the order was just an observation.
The lawyer requested the court to extend the bail for eight more weeks as the only option available for his client is to be checked by the same doctors who were treating him earlier in London.
Meanwhile, CJP remarked that Nawaz's health has deteriorated after going on bail. Nawaz Sharif was given six-week bail for medical treatment but he had spent the entire time in tests only, he said.
The court also dismissed Nawaz Sharif's review petition for permission to go abroad for medical treatment.
Nawaz Sharif had filed a petition in the Supreme Court on April 30 which stated that a review petition had been filed in the Supreme Court on its March 26 decision. The petition sought an extension in Nawaz's bail until a decision on the review petition.
The bail of ex-premier will expire on May 7.
Supreme Court had granted bail to former premier Nawaz Sharif for six weeks, giving him the freedom to obtain medical treatment of his choice within the country.
The PML-N supreme leader was sentenced to seven years in prison and was fined Rs1.5 billion and $25 million in the Al-Azizia corruption reference by an accountability court on December 24, 2018. However, he was acquitted in another reference related to Flagship Investments.