Govt should take parliament into confidence over IMF bailout package: Shah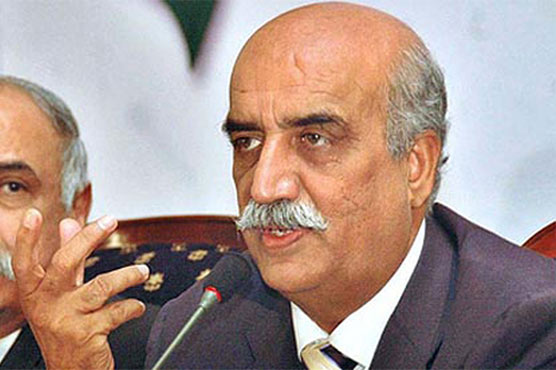 Shah rejected the terms and conditions imposed by IMF for loan adjustment.
KARACHI (Dunya News) – Pakistan Peoples Party (PPP) leader Khurshid Shah on Tuesday has demanded the incumbent government of Pakistan Tehreek-e-Insaf (PTI) to take the parliament into confidence over International Monetary Fund (IMF) bailout package.

Talking to media, Shah rejected the terms and conditions imposed by IMF for loan adjustment and said that it will bring more inflation in the country.

He said that the government has forgotten its promises as it is taking the nation towards poverty.

On the other hand, Pakistan and IMF formal talks have begun on second day to sort out details of a three-year bailout package for economic reforms. The proposed bailout package is expected to be $8 billion.

The government departments have shared data on taxes, tariff, subsidies and other related issues with the Fund officials. The State Bank of Pakistan is expected to share monetary-related details.

The focus of the talks would be on fiscal and monetary policies. The IMF has demanded an increase in tax collection.
To which, sources stated that Pakistan had offered extra Rs600 billion tax target to IMF officials during meeting which was attended by Federal Board of Revenue (FBR) chairman and tax officials.

In this regard, it is anticipated that the government could increase GST by 1 percent to 18 percent and the Federal Excise Duty imposed on several items could also be raised.

Furthermore, import duties on luxury items are also expected to increase. A further increase in regulatory, withholding tax and custom duty is also being anticipated. Financial burden on non-tax filers may also swell.

Moreover, alterations in salary slabs of government employees are also expected and subsidies can be reduced.

According to experts, a significant hike in petroleum products could also be observed under the deal as the IMF mission will be briefed on the increase in electricity tariff, purchasing power of rupee and change in the terms and conditions for a loan adjustment.