Tahirul Qadri vows to continue 'legal' battle for justice in Model Town incident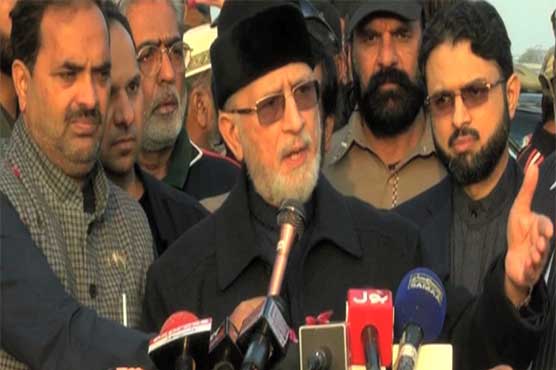 On March 22, the LHC had dissolved the new JIT constituted to investigate the incident afresh.
LAHORE (Dunya News) – Pakistan Awami Tehreek (PAT) chief Dr Tahirul Qadri on Tuesday – upon his arrival at Lahore airport from Turkey – asserted that he would accept whatever the decision the court makes regarding the Model Town incident – in which 14 people were killed and dozens were injured on June 17, 2014.
He spoke to the media, and claimed that it was the first time that the Joint Investigation Team (JIT) interrogated former premier Nawaz Sharif, his brother Shehbaz Sharif and other accused in the case.
The PAT chief said the new JIT recorded statements of both sides, and they were satisfied with the investigation process.
However, concerning the court matters, he said they would be dealt in the courts, and if need arises, they [the PAT] would approach the Supreme Court for justice.
He maintained that the JIT grilled Sharif, asking him to explain why did not an impartial JIT was constituted earlier in his capacity as prime minister following the incident for fair and transparent investigation into the incident.
Qadri said the Sharif brothers were interrogated for the first time in the last four years. He questioned why they were worried if they were innocent, and had nothing to do with the incident.
He vowed to continue 'fighting' legal battle until the justice is provided to the victims.
On March 22, the Lahore High Court (LHC) had dissolved the JIT constituted to investigate the 2014 Model Town incident afresh.
The new JIT was constituted on January 3 this year for a fresh probe into the 2014 Model Town carnage, following a notification issued by the Punjab chief secretary.
The LHC ordered the new JIT to stop the probe and annulled the notification of its constitution. It has sought a reply from the Punjab government regarding the new JIT.