Angry PM Imran decides to give CM Buzdar another chance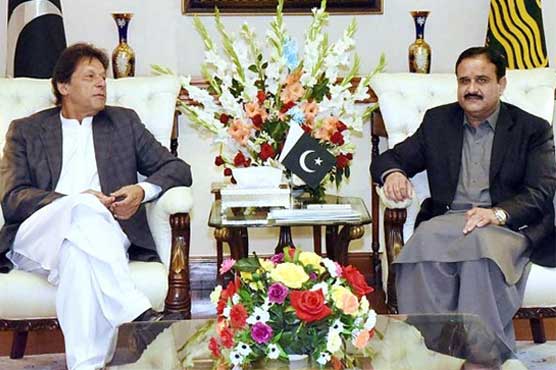 Prime Minister Imran Khan and CM Usman Buzdar held meeting in Islamabad on Monday.
ISLAMABAD (Dunya News) – During meeting with Punjab Chief Minister Usman Buzdar yesterday (Monday), Prime Minister Imran Khan had expressed resentment over the decision to raise salaries of Punjab lawmakers.
According to details obtained by Dunya News, the Prime Minister has decided to give CM Buzdar another chance and directed him to take steps for improvement of governance in the province.
The Prime Minister also directed to make necessary changes in the pronvincial cabinet if required. He ordered immediate action against corrupt officers in the brueacracy.
After the meeting, a list of 20 Punjab Police officers has been finalised. Strict action will be taken against the officers named in the list.
On Monday, Punjab Chief Minister Usman Buzdar told Prime Minister Imran Khan that he had relinquished the lifelong perks and raise in salary proposed in a provincial bill but a raise in the provincial assembly lawmakers' salaries was necessary.
While expressing extreme disappointment over the move, the prime minister had asked Punjab Governor Chaudhry Sarwar not to sign the bill.
READ: PM stops Punjab Governor from signing MPAs' salary raise summary
"Salaries should be increased while keeping in mind the austerity drive of the government," Imran Khan said.
Moreover, the chief minister reportedly complained about interference by some PTI leaders in various administrative affairs, saying the provincial government was facing problems due to such interruptions. The PM advised the CM to handle the affairs with consultation and ensure implementation of the PTI manifesto while keeping all administrative affairs in his own hands.
Last week, the Punjab Assembly had approved a private bill seeking raise in the salaries and privileges of Members of Provincial Assembly (MPAs) within just 24 hours. The bill was presented in the House after receiving consent from the standing committee.