PAF fulfilled nation's expectations, says Air Chief Mujahid Anwar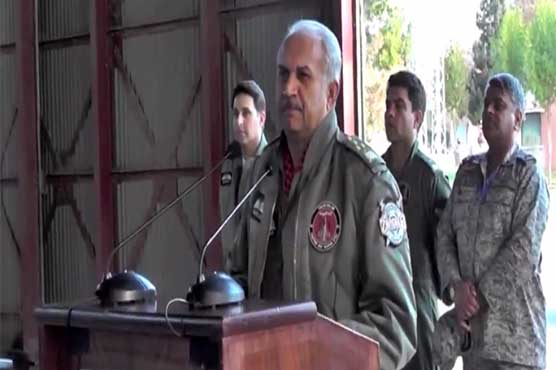 Whole nation is proud of Pakistan Air Force, says Mujahid Anwar Khan.
(Dunya News) – Chief of the Air Staff Air Chief Marshal Mujahid Anwar Khan Monday visited the Forward Operating Base and said the nation is proud of Pakistan Air Force (PAF) who fulfilled its expectations.
The air chief thanked the Almighty for the wonderful success against India and affirmed that PAF is always ready to retaliate against any aggression. He praised the professional capabilities of all officials and said the difficult time is not over yet.
Let it be known that Pakistan Air Force had downed two Indian fighter jets and arrested one pilot. The news was shared by Inter-Services Public Relations (ISPR) Director General (DG) Major General Asif Ghafoor.
Giving details in a press conference, the DG ISPR said Pakistan Air Force engaged six targets from across the Line of Control in Occupied Kashmir. "Two aircraft of Indian Air Force violated LoC and entered into Pakistani territory. PAF engaged them and both of these were shot down, with debris of one falling inside Pakistan's territory and the other in Indian Occupied Kashmir," he told.