Last Updated On 01 March,2019 12:20 pm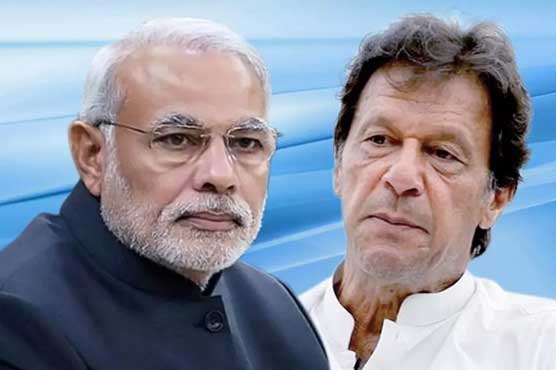 Pakistan adopted a controlled policy of responding to the Indian aggression and incursion
ISLAMABAD (Dunya News) – Prime Minister Imran Khan and his Indian counterpart Narendra Modi likely to have a telephonic conversation soon.
According to Dunya News sources, the tensions between the nuclear-arch rivals seems to decrease as a contact between PM Imran Khan and his Indian counterpart is expected very soon.
It is pertinent here to mention that Pakistan adopted a controlled policy of responding to the Indian aggression and incursion in the country's airspace.
Pakistan's civil-military leadership had time and again reminded India of its one point agenda that is peace. We do not want any kind of confrontation but will immediately retaliate in case of any attack.
---
PM announces to release Indian pilot
---
Earlier, Pakistan said it will release a captured Indian pilot in a "peace gesture", taking a step towards rapprochement as clashes between the nuclear-armed rivals ignited fears of a disastrous conflict.
The pilot, Wing Commander Abhinandan Varthaman, has become the face of the crisis since he was shot down in a rare aerial engagement between the South Asian neighbours over the disputed region of Kashmir.
"As a peace gesture we are releasing the Indian pilot tomorrow," Prime Minister Imran Khan told a joint session of parliament.
Parliamentarians stamped their feet in approval at his statement, the first sign of a potential thaw after a dangerous sequence of events between the two countries sent tensions soaring.
---
World powers call for calm

---
Tit-for-tat raids across their hair-trigger border have alarmed world powers including China and the US, who have urged restraint.
The United States, China and other world powers have urged restraint from the two nations as tensions escalate in the wake of a suicide car bombing that killed at least 40 Indian paramilitary police in Indian-controlled Kashmir on Feb 14.
The White House urged "both sides to take immediate steps to de-escalate the situation."
US Secretary of State Mike Pompeo said in a statement he had spoken separately with the foreign ministers of India and Pakistan and urged them to "prioritise direct communication and avoid further military activity".
Pakistan's envoy to the United States, Asad Majeed Khan, said Islamabad would like to see the Trump administration play a more active role in easing the crisis.
At the same time, he said the lack of US condemnation of India's strike on Pakistan was "construed and understood as an endorsement of the Indian position, and that is what emboldened them even more".
China, the European Union and other countries including Iran also called for restraint.
The Chinese government's top diplomat, State Councillor Wang Yi, spoke by telephone with Pakistan Foreign Minister Shah Mehmood Qureshi and expressed "deep concern", China's foreign ministry said in a statement on Thursday.
Yesterday, Prime Minister Imran Khan has reiterated on Pakistan's stance on talks.
Pakistan has said it downed two Indian fighters, while India confirmed it had lost one plane and claimed it had shot down a Pakistani jet. The wreckage of one aircraft fell in Central Kashmir's Budgam while the other's in Pakistan territory. Two of the pilots have been killed in the incident.
"I am afraid of miscalculations," Khan said. "We should not even think of war, especially in view of the lethality of the weapons that we have." However he warned that his Indian counterpart Narendra Modi should not misconstrue his desire to de-escalate as "weakness"."India must know that we will be forced to strongly retaliate against any Indian action in the future," he said.