Saudi FM Adel Al-Jubeir to visit Pakistan to convey 'important message': Shah Mehmood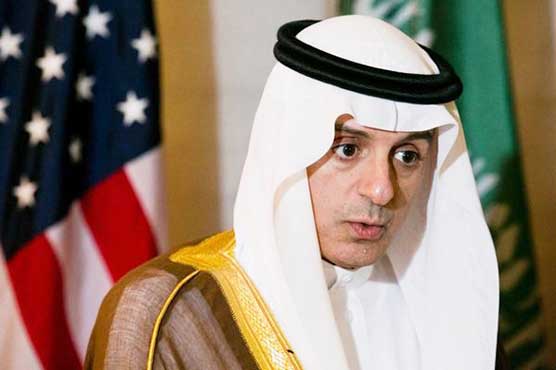 Pakistan Foreign Minister Shah Mehmood Qureshi revealed to Dunya News on Thursday.
ISLAMABAD (Dunya News) – Pakistan Foreign Minister Shah Mehmood Qureshi on Thursday, in his exclusive talk to the Dunya News, disclosed that Saudi Foreign Minister Adel bin Ahmed Al-Jubeir is scheduled to visit Pakistan with an important message under the directives of Saudi Crown Prince Mohammad bin Salman.
Regarding the United States President Donald Trump's comments on the spiking tensions between Pakistan and India, Qureshi appreciated that Trump moved to intervene on a positive note.
Trump's remarks came on the sidelines of his meeting with North Korean leader Kim Jong Un during a news conference in Vietnam after a second summit between US and North Korea concluded.
Trump said he had some "reasonably decent" news from India and Pakistan. However, he did not elaborate further.
The FM said that the Indian pilot Wing Commander Abhinandan, who was captured by the Pakistan Army on Wednesday, is safe and healthy and could be released and repatriated if India chooses to deescalate the conflict with Pakistan.
Meanwhile, British Secretary of State for Foreign and Commonwealth Affairs Jeremy Hunt telephoned Qureshi and discussed regional security situation in the aftermath of the Indian aggression. This was his second call to Qureshi in the last three days.
Qureshi briefed him regarding the Indian aggression against the sovereignty and territorial integrity of Pakistan.
He said the Indian attack was in gross violation of the International Law and maintained that Pakistan responded in self-defence from within its own airspace.
The foreign minister said that Pakistan is still ready to hold dialogues with India.
He said Prime Minister Imran Khan is ready to talk to Indian Prime Minister Narendra Modi.
He said that he had a telephonic conversation with several foreign ministers on Wednesday, including the Saudi, Turkish, Chinese, Iranian and UAE representatives.
Also read: UN, Turkey offer role of mediation to resolve Pak-India rising conflict