India rejects Pakistan's offer to investigate Pulwama attack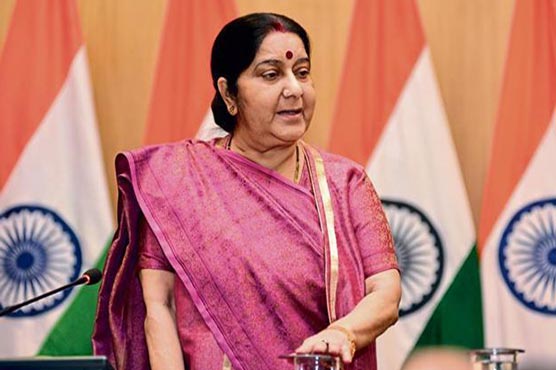 India also refused to accept that Pakistan itself has been the biggest victim of terrorism.
MUMBAI (Dunya News) – Indian government on Wednesday has rejected Prime Minister (PM) Imran Khan's offer to investigate the Pulwama attack that killed 44 Central Reserve Police Force (CRPF) soldiers in occupied Kashmir.

In a statement issued by Indian Ministry of External Affairs (MEA), it was stated, "We are not surprised that the prime minister of Pakistan refuses to acknowledge the attack on our security forces in Pulwama as an act of terrorism. Prime minister of Pakistan has neither chosen to condemn this heinous act nor condoled with the bereaved families."

"The Prime Minister of Pakistan has offered to investigate the matter if India provides proof. This is a lame excuse. In the horrific attack in Mumbai on 26/11, proof was provided to Pakistan. Despite this, the case has not progressed for the last more than 10 years. Likewise, on the terror attack on Pathankot airbase, there has been no progress," the ministry alleged.

It also refused to accept that Pakistan itself has been the biggest victim of terrorism.

Earlier, PM Imran vowed to retaliate against any Indian aggression without thinking after New Delhi accused Islamabad of involvement in the Pulwama attack.

He said, "War is easy to start but difficult to end as it does not remain in human hands afterwards. It is not a sane approach to start a war."

PM urged India to move towards dialogues.

He said Pakistan has no benefit in conducting such operations, especially when Islamabad was planning to sign historic deals with Saudi Arabia upon the visit of Crown Prince Mohammed bin Salman.
---
Pulwama attack
---
At least 44 Indian paramilitary soldiers were killed on Thursday in Indian-occupied Kashmir in one the deadliest attacks. The attack saw explosives packed inside a van rip through buses in a convoy of 78 vehicles carrying some 2,500 members of the paramilitary CRPF.

Two blue buses carrying around 35 people each bore the brunt of the massive blast, heard miles away, around 20 kilometres (12 miles) from the city of Srinagar on the main highway to Jammu.

Kashmir has been divided between India and Pakistan since independence. Rebels have been fighting for an independent Kashmir, or a merger with Pakistan, for 30 years.

Last year was the deadliest in a decade, with rights monitors saying almost 600 Kashmiri people died, most of them civilians. Thousands more have been maimed in recent years by pellet-firing shotguns used by Indian forces.