Nishan-e-Pakistan awarded to Saudi Crown Prince Mohammad bin Salman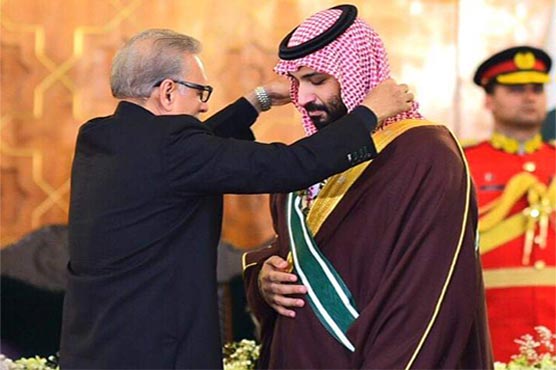 President Arif Alvi awards Crown Prince Mohammad bin Salman Nishan-e-Pakistan.
ISLAMABAD (Dunya News) – Pakistan President Arif Alvi Monday conferred country's highest civilian honour on the Saudi Crown Prince Mohammad bin Salman by awarding him the Nishan-e-Pakistan (Order of Pakistan).
The Crown Prince was honored due to his "outstanding support for reinvigorating Pak-Saudi bilateral relationship".
The crown prince reached the President House along with Prime Minister Imran Khan in an open-top horse buggy. The ceremony was held a day after Mohammad bin Salman signed investment deals worth $20 billion with Pakistan.
---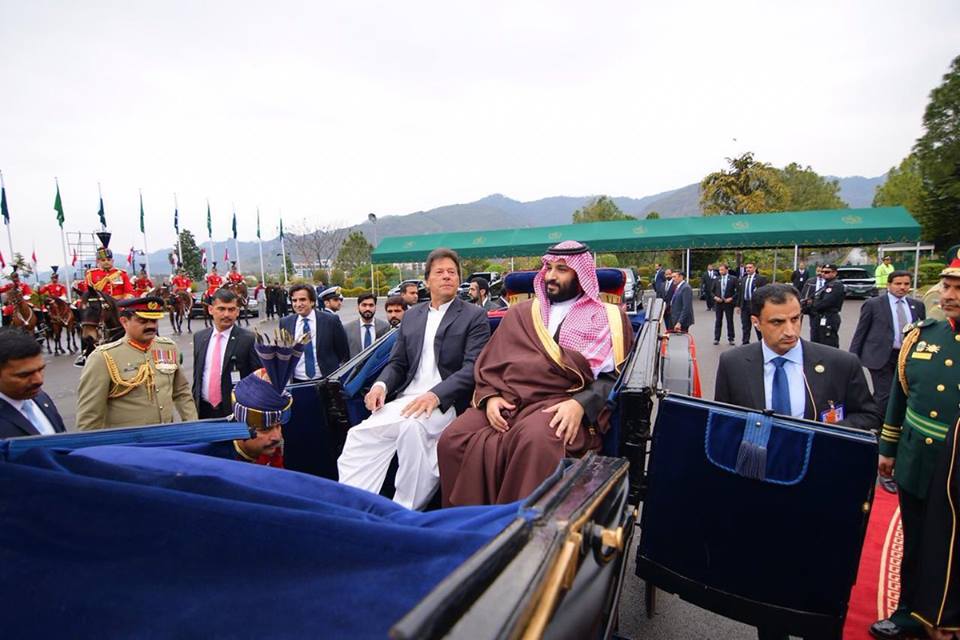 ---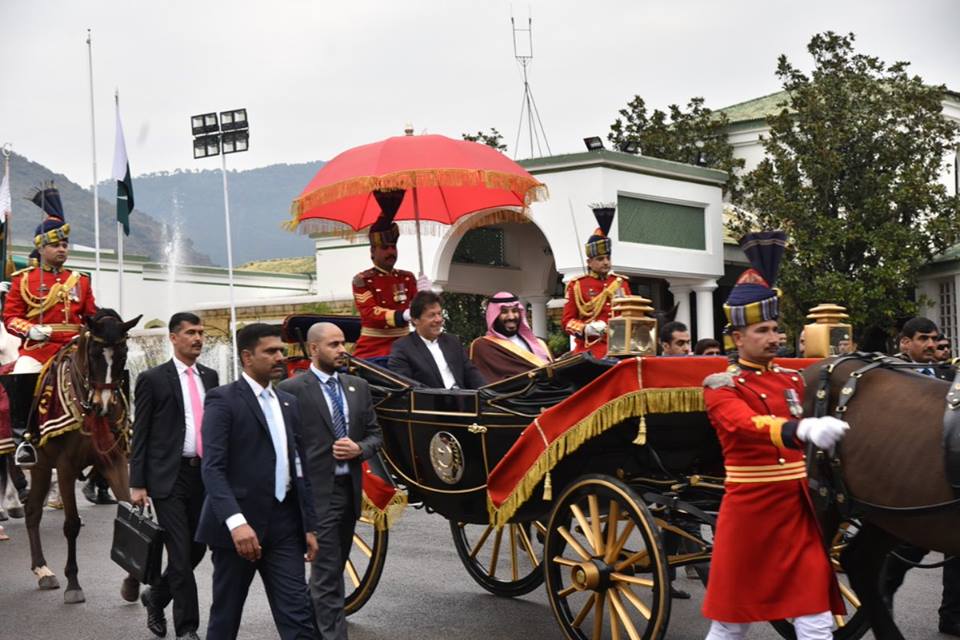 ---
While addressing the gathering, President Arif Alvi said it is an honor for me to host a luncheon for Mohammad bin Salman. Saudi Arabia and Pakistan share historic relations, and the crown prince's visit will further strengthen the friendship, he added.
The president said our friendship is based on religion and culture, and Pakistani people love Saudi Arabia from their hearts. He pronounced that Pakistan has huge tourism opportunities just like Saudi Arabia and invited the crown prince to visit Pakistan's northern areas.
He maintained that Pakistan and Saudi Arabia have similar directions for peace in the region, developing, and elimination of corruption.
"It is a very golden era for Pakistan as it is open for investment. We bravely fought terrorism and we are now standing at an era, where there will be increasing prosperity and peace in Pakistan, Saudi Arabia, and the region," asserted the president.
He thanked the Crown Prince for signing various Memorandums of Understanding for huge investment in Pakistan. He said it is the first phase of Saudi investments and the second phase will take place soon.
President Alvi also invited Saudi King Salman bin Abdul Aziz to visit Pakistan.
He said the formation of Supreme Coordination Council between both the countries is of huge significance. "Long live Pakistan-Saudi Arabia friendship," he concluded.
---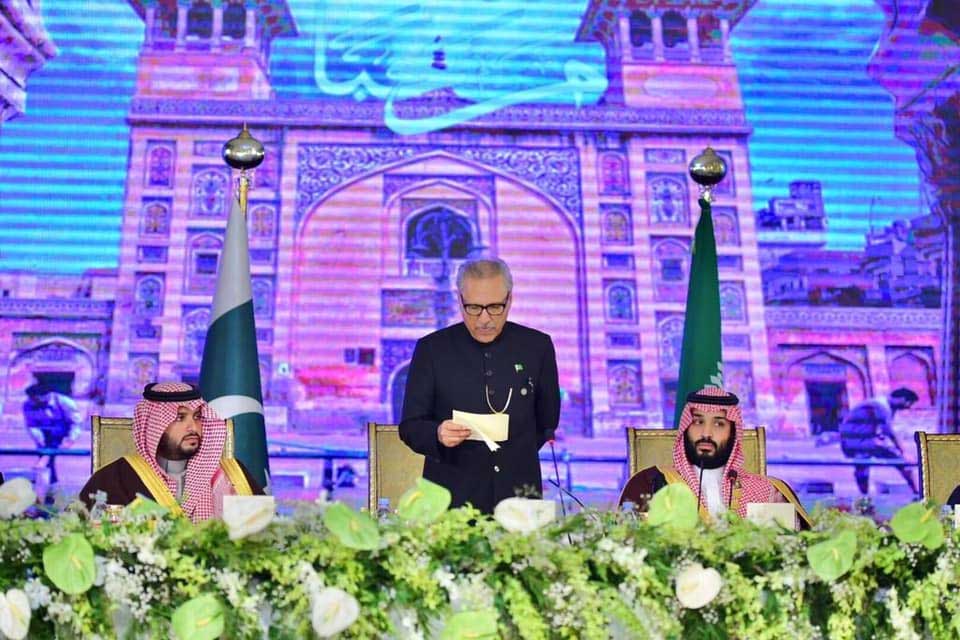 ---
Speaking on the occasion, Crown Prince Mohammad bin Salman said, "I was honoured to meet the president of Pakistan. I thank you for honouring me with Pakistan's highest award."
He stressed that brotherly relationships between Saudi Arabia and Pakistan are focused on the principle of Islamic solidarity.
The Crown Prince acknowledged contribution of Pakistani diaspora for the development of Saudi Arabia, especially in the expansion project of the Grand Mosque and Masjid-e-Nabavi. He said over two million Pakistanis are working in Saudi Arabia and contributing a lot in the development of the kingdom and Pakistan.
The luncheon was also attended by Chief of Army Staff (COAS) Gen Qamar Javed Bajwa and Foreign Minister Shah Mahmood Qureshi. Mohammed bin Salman exchanged views on mutual relations between Pakistan and Saudi Arabia with the president.
After the ceremony concluded, the Saudi crown prince bid farewell to the president and members of the federal cabinet. He then left for Nur Khan Airbase along with the prime minister who personally drove the car.
The crown prince, widely known as "MBS", got a warm welcome in Pakistan, including a 21-gun salute and an honour guard on Saturday.
F-16 and JF-17 Thunder jets of Pakistan Airforce took the plane of visiting dignitary into protective custody when it entered into Pakistan's airspace and escorted it to its destination.
---
Read: Saudi Crown Prince MBS orders immediate release of 2107 Pakistani prisoners
---
The airplane of Saudi Crown Prince Mohammad bin Salman had landed at Nur Khan Airbase where Prime Minister Imran Khan, COAS General Qamar Javed Bajwa, cabinet members and high-level officials received him.
Saudi Prince Mohammad bin Salman then reached Prime Minister House, where he was presented a guard of honour. The Saudi Crown Prince was driven to the PM House by Prime Minister Imran Khan himself.