Saudi Crown Prince presented guard of honour at PM House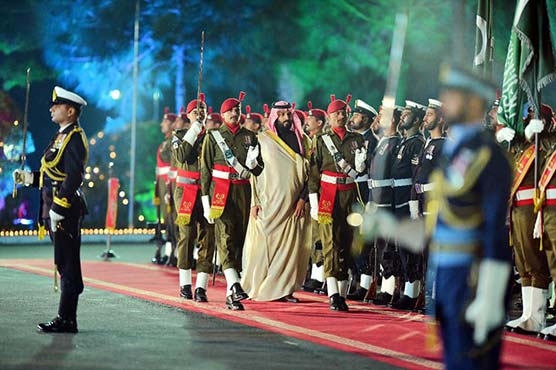 Upon entry into Pakistan's airspace, Mohammad bin Salman airplane was given a warm welcome.
ISLAMABAD (Dunya News) – Saudi Prince Mohammad bin Salman has reached Prime Minister House, where he was presented a guard of honour.
The Saudi Crown Prince was driven to PM House by Prime Minister Imran Khan himself where awaits a grand welcome line of celebrations.
The airplane of Saudi Crown Prince Mohammad bin Salman had landed at Nur Khan Airbase where Prime Minister Imran Khan, Chief of Army Staff (COAS) General Qamar Javed Bajwa, cabinet members and high-level officials received him.
The Saudi Crown Prince was also given a twenty one gun salute at the Nur Khan Airbase.
Upon entry into Pakistan s airspace, Mohammad bin Salman airplane was given a warm welcome.
F-16 and JF-17 Thunder jets of Pakistan Airforce took the plane of visiting dignitary into protective custody and escorted it to its destination.
Mohammad Bin Salman is accompanied by a high-powered delegation, including members of Saudi Royal family, key ministers and leading businessmen. The visit marks a deepening in ties between allies and in return Pakistan s powerful army lending support to Saudi Arabia and its royal family.
Earlier, Saudi Minister of State for Foreign Affairs Adel bin Ahmed Al-Jubeir arrived in Islamabad on Sunday evening.
He was warmly received by Foreign Minister Shah Mehmood Qureshi.
Saudi Ambassador to Pakistan Nawaf bin Said Al-Malki and Pakistan s Ambassador in Saudi Arabia Raja Ali Ejaz were also present among other officials.
On his first-ever visit to Pakistan as the crown prince of Saudi Arabia, Mohammad bin Salman (MBS) will be accorded a red carpet welcome and a guard of honour at the Prime Minister (PM) House in Islamabad after his arrival at Noor Khan Air Base in Rawalpindi.
He will be presented a 21-gun salute by a contingent of the armed forces amid much fanfare in the capital.
The crown prince will be received by PM Imran Khan and other members of his cabinet at the air base.
Islamabad has booked 300 super luxury Toyota Land Cruiser Prado vehicles for the royal visit.
He will hold key one-on-one meetings with PM Imran Khan, President Arif Alvi and Chief of the Army Staff General Qamar Javed Bajwa as both countries seek to capitalise on the fresh momentum in ties due to a flurry of recent contacts at the leadership level.
Billboards featuring pictures of the crown prince and greetings about Pak-Saudi ties have been put up across the city to welcome the visiting dignitary.
Besides, a troupe of folk musicians and cultural dancers are also expected to stage a small show to receive him.
The national anthems of both countries will be played, and Mohammad bin Salman will be given a fly-past by a formation of JF-17 fighter jets.
He is scheduled to stay in the country for two days.
Strict security measures have been formulated and implemented across the federal capital and Rawalpindi.
The army, Rangers and police will together be handling security on Sunday and Monday.
Police have set up pickets at all the entry and exit points of the city and check posts have been set up on main roads. The Red Zone will be completely sealed and a separate traffic plan has been issued for the joint cities.
Meanwhile, a public holiday has been declared on Monday in light of his visit.
Around $21 billion Memorandums of Understanding (MoUs) are likely to be inked during his two-day stay.
Islamabad has termed his visit a "historical one" which is expected to stabilise the crippling economy of the country.
Matters pertaining to trade and investment in various sectors including energy will be discussed in the meetings.
Pakistani officials have already flagged up that Saudi Arabia will announce seven investment agreements related to energy, tourism, minerals, petrochemicals, hotel industry events, and a $10 billion oil refinery and petrochemicals complex in the coastal city of Gwadar, where China is building a port.
Gwadar is the nerve centre of China-Pakistan Economic Corridor (CPEC) which has manifested investors' confidence in the economy of Pakistan as the multi-billion dollar project is poised to bring massive investment in the country.
Short-term projects worth $7 billion with a span of one to two years, medium-term projects worth $2 billion with a span of two to three years and long-term projects worth $12 billion with a span of three to five years are included in the agreements.
According to sources, Saudi Arabia is interested in buying two LNG-fired power plants including the Haveli Bahadur Shah Power Plant and the Balloki Power Plant.
MoUs of five hydropower projects worth SR1.207 billion are expected to be signed during the visit of Saudi crown prince.
Under the agreement, SR375 million will be contributed for Diamer Bhasha and SR300 million for Mohmand Dam Hydropower Project.
Moreover, SR150.37 million will be granted for the Jamshoro power project whereas SR130.12 million will be provided for the Jagran Hydropower Project and SR247.5 million for the Shounter Hydropower Project.
Sources said that the Federal Cabinet had already approved the signing of $322 million financial agreement between Pakistan and Saudi Development Fund (SDF) on a summary submitted by the Economic Affairs Division.
MBS visited Pakistan in 2016 before he was elevated to crown prince.