Shehbaz Sharif, Maryam Nawaz inquire after ailing Nawaz Sharif at Jinnah Hospital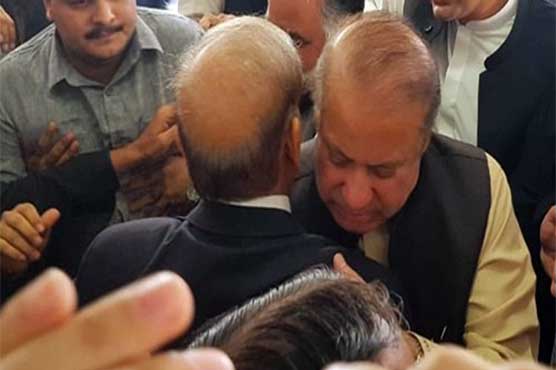 AIMC principal Arif Tajamul claims that Sharif is satisfied with the treatment he is being offered.
LAHORE (Dunya News) – The Leader of the Opposition in the National Assembly Shehbaz Sharif and Maryam Nawaz on Saturday met former premier Nawaz Sharif at the Jinnah hospital in Lahore after his health rehabilitated and his backache healed.
Shehbaz Sharif prayed for healing of his elder brother and said he had already pledged to quit politics if any corruption was proved against him.
Maryam Nawaz expressed hope for regaining strength in politics by saying "soon oppression will be allayed by justice and situation will improve."
However, a professor is being awaited to conduct his echocardiography and a six-member medical board is expected to prescribe medications for his further treatment after examining his medical reports.
Allama Iqbal Medical College (AIMC) principal Arif Tajamul told the media that the government has issued directives to provide best possible treatment to the former prime minister.
"We will ensure provision of best medical facilities to him," he went on to say, adding that it would be inappropriate to share details of his medical history.
"Sharif is satisfied with the treatment he is being offered," he said.
He said that his personal physician could not be included in the medical board; however he could be consulted if required.
He is expected to be visited by his younger brother Shehbaz Sharif after being released on bail.