South Punjab secretariat will begin work from July 2019, announces Punjab CM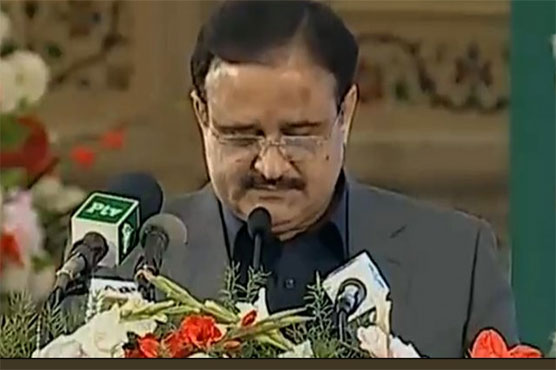 CM was addressing at the special ceremony regarding the 100 days performance in Lahore.
LAHORE (Dunya News) - Punjab Chief Minister Usman Buzdar on Saturday asserted that a new province will be the first priority of the government.
Addressing at the special ceremony regarding the first 100 days of Punjab Government in Lahore, he announced that South Punjab secretariat will begin work from July 2019.
We will also resume horse and cattle show, told the Chief Minister.
Punjab Chief Minister Sardar Usman Buzdar maintained that the time for reality of dream of Naya Pakistan has reached now. He said that every possible measures are being taken for improvement of all sectors.
Punjab Chief Minister said that we are committed to serve people. He said that doors of Chief Minister's House have been opened for public.
Executive Councils have been formed at Federal and Provincial level for creation of South Punjab province, he added.
The Chief Minister informed that Sehat Insaf Card program is being launched from next month in four districts in first phase, which will be extended to whole province in phases.
Punjab Chief Minister said that 12.5 million plants have been planted in province during first 100 days of PTI's government. He articulated that status quo has been broken in Punjab due to Prime Minister Imran Khan's 22 years long political struggle.
The CM told that five Shelters for Homeless are under completion in Lahore and Rawalpindi.
Punjab Chief Minister went on to say that PTI Government has appointed women at top slots of its departments and institutions. He said that four new technical universities while eight special small industrial zones will be setup.
Buzdar pronounced that Good Governance Advisorry Council has been setup for the first time in province's history. He said that government land worth Rs171 billion has already been recovered from Qabza Mafia.
"Agriculture policy has been made for betterment of farmer community. A new Education Policy is also been introduced for progress of education sector," stated the CM.
He said that new industrial policy has been approved which will create 1.2o million new job opportunities in industrial sector. Chief Minister said that a Reforms Committee has started its work for reforms in Police Department.
He proclaimed that first ever Water plan is also being prepared for Punjab.
---
Punjab Finance Minister's briefing
---
In his briefing to the Prime Minister regarding the first 100 days performance, Punjab Finance Minister Makhdoom Hashim Jawan Bakht told that foundation has been laid for a change during first 100 days.
He said that revolutionary reforms are being introduced in every sector of province and special measures have been taken specially or progress of education, health and agriculture sector.
He said that economic growth rate will be raised to 7 percent. He said that 35 lac houses will be built in Punjab and new job opportunities created. Punjab Minister said that equal progress will be ensured for all areas of province. He said that progress of South Punjab is among our priorities.
Finance Minister said that Punjab Government has approved labor, industrial and agriculture policies.
Prime Minister Imran Khan is the Chief Guest at the special ceremony. Several other provincial and federal ministers are also present on the occasion.