SC hints at quashing IHC's verdict regarding release of Nawaz, Maryam and Safdar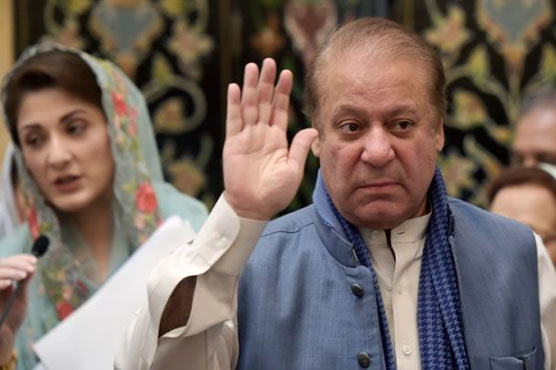 Haris replied that the net worth of assets owned by his clients was not mentioned.
ISLAMABAD (Dunya News) – Supreme Court of Pakistan (SC) on Wednesday hinted at suspending verdict of Islamabad High Court (IHC) regarding suspension of jail sentences of Pakistan Muslim League Nawaz (PML-N) supremo Nawaz Sharif, Maryam Nawaz and Capt (rtd) Safdar in in Avenfield reference.
As per details garnered, a three-member bench headed by Chief Justice of Pakistan (CJP) Justice Saqib Nisar resumed hearing of the case here in Islamabad today.
"In the prima facie, there seems no other way apart from suspending verdict of IHC", remarked CJP as the hearing went underway.
CJP inquired from Khawaja Haris—Sharifs' legal counsel—about flaw in trail court's verdict pertaining to imprisonment. To this, Haris replied that the net worth of assets owned by his clients was not mentioned.
"For instance, let us believe that assets are owned by my client. But the onus of evidence lies on National Accountability Bureau (NAB)", argued Haris.
To this CJP remarked, "Neither Manna And Quail was being dropped nor money was growing on trees."
Later, the hearing was adjourned till November 12.
In its plea challenging suspension of jail term of Pakistan Muslim League Nawaz's (PML-N) supremo Nawaz Sharif, his daughter and political heir Maryam Nawaz and son-in-law Capt (retd) Safdar, NAB states, "IHC had failed to appreciate that through its order, it had seriously prejudiced the case of the prosecution by holding that the trial court judgement suffered from obvious and glaring defects and infirmities and that the convictions and sentences handed down to the accused might not be sustained ultimately".
It is pertinent here to mention that Islamabad High Court—on September 19—had annulled jail term of Sharifs awarded to them by an accountability court in Avenfield reference case.