Maulana Samiul Haq laid to rest in Akora Khattak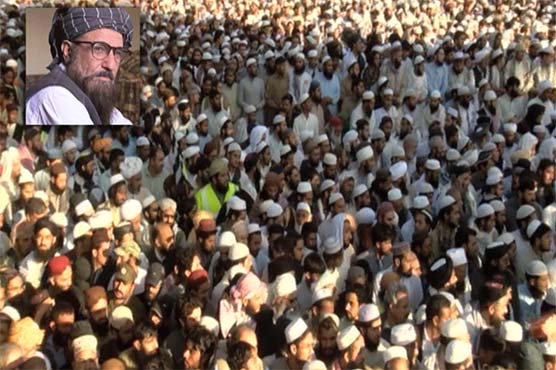 Envoys of Afghanistan, Saudi Arabia and Qatar will also attend the funeral prayer.
AKORA KHATTAK/RAWALPINDI (Dunya News) – Religious scholar and Jamiat Ulema Islam-Sami (JUI-S) chief Maulana Samiul Haq on Saturday was laid to rest at the Darul Uloom Haqqania next to this father.
The funeral prayers of slain religious scholar and former chief of Jamiat Ulema-e-Islam-Sami (JUI-S) Maulana Samiul Haq has been offered in Akora Khattak today.
As per details garnered, foolproof security arrangements were made to avoid any untoward situation. The town administration has summoned additional contingents of security forces in this regard.
Pakistan Peoples Party (PPP) chairman Asif Ali Zardari, Khursheed Shah, Asfandyar Wali, Mian Iftikhar Hussain, Khyber Pakhtunkhwa's Chief Minister and provincial ministers attended the funeral prayers. Envoys of Afghanistan, Saudi Arabia and Qatar also attended the funeral prayer.
The investigation team has prepared the initial report on the assassination of Maulana Samiul Haq and forwarded it to the concerned authorities. Police have arrested Sami's security guard and secretary and investigation from both is underway. Police has also collected finger prints and other evidence.
---
Case lodged
---
On the other hand, the case of Maulana Samiul Haq's murder has been lodged against unknown attackers in Airport Police Station, Rawalpindi. The first investigation report (FIR) states that deceased was attacked at 6:45PM. It further reads that Maulana was stabbed 12 times in stomach, chest, forehead and ears.
Hamidul Haq—son of deceased leader—has refused to carry out autopsy while terming it against Sharia.
---
Maulana's assassination
---
Maulana Samiul Haq was assassinated in a targeted attack in Rawalpindi on Friday.
As per the details, Maulana Samiul Haq sustained injuries in a targeted attack at his house in a private housing society in Rawalpindi's Gulraiz area.
He was shifted to local hospital for medical assistance where he succumbed to his wounds.
Haq's son Maulana Hamidul Haq confirmed his death in the attack.
"He was resting in his room during Asr time when his driver/guard went out for 15 minutes. When he returned, he found Maulana Samiul
Haq dead in his bed and his body covered in blood," Sami s son said.