Ch Nisar dispels reports of joining any political party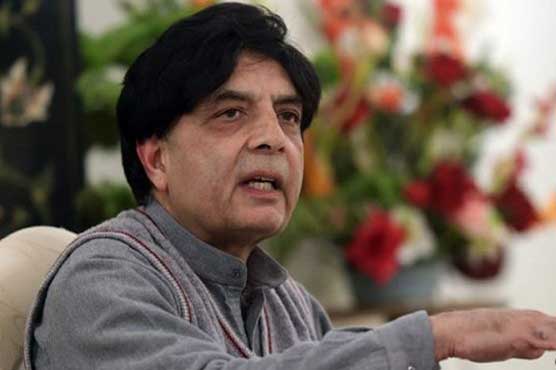 Ch Nisar likely to take oath as Punjab MPA
ISLAMABAD (Dunya News) – Former interior minister and estrange leader of Pakistan Muslim League-Nawaz (PML-N) Chaudhry Nisar on Saturday dispel reports he was joining any political party.
Addressing a gathering of workers at his native area after returning from London, he said that the country was heading towards a political confrontation, adding that the instability would increase in the country, if the issue of political confrontation is not addressed.
Nisar went on to say that the government should differentiate between accountability and revenge. Today politics has become another name of abusive language," he said and added we need to come out of condition of confrontation and war.
"Pakistan can only be strengthened through transparent and peaceful politics and democratic process," he added.
Earlier, well-informed sources privy to Pakistan Muslim League Nawaz (PML-N) told Dunya News that disgruntled and ignored Ch Nisar is all set to re-enter politics and is likely to take oath as member of Punjab Assembly.
Sources also revealed that mutual friends of Nisar and PML-N supremo Nawaz Sharif are making efforts to dispel misunderstandings between them.
Nisar—who revolted against giving reins of the party to Maryam Nawaz—was denied party's ticket to contest General Elections 2018. He contested elections on two seats of National Assembly and one seat of Punjab Assembly. Startlingly, Nisar faced humiliating defeats in the hands of novice PML-N and Paksitan Tehreek-e-Insaf's candidates.
However, distance between Nisar and Nawaz plummeted as former attended funeral prayers of Kulsoom Nawaz, the deceased wife of Nawaz Sharif.