PM Imran among top 50 'Most Influential Muslims'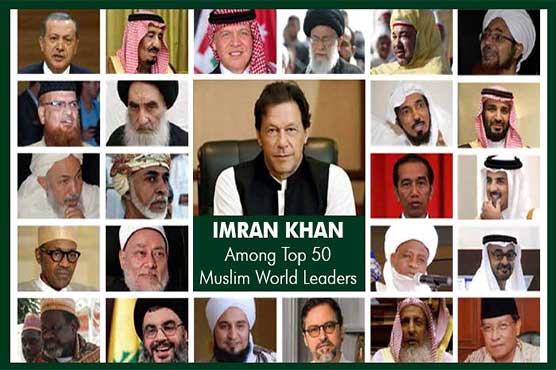 Imran Khan has been placed on 29th position on the list of World's 500 Most Influential Muslims.
(Web Desk) - Imran Khan, 22nd prime minister of Pakistan, has been named in the Top 50 of World's Most powerful Muslims list of 2019.
PM Khan has grabbed the 29th prestigious position on the list of 'World's 500 Most Influential Muslims' that was prepared by the Jordan-based Royal Islamic Strategic Studies Centre.
Turkish President Recep Tayyip Erdogan is placed first on the list, while Saudi King Salman bin Abdul-Aziz Al-Saud was ranked second in being the most influential Muslim, and Jordanian King Abdullah II Ibn Al-Hussein was ranked third.
---
Imran Khan
---
A Long Journey: When the Pakistan Tehreek-e-Insaf (PTI) party won the 2018 General Elections, it was the culmination of a 22 year journey for Imran Khan. He had founded the PTI in 1996 hoping to oust the 'political mafias' ruling Pakistan. He garnered national support over the next two decades and in 2013 had become the second largest in the country by popular vote, before eventually winning in 2018.
Challenges: A crackdown on corruption and bringing accountability to the forefront are his major pledges. He has already implemented cutbacks in extravagant government expenditure and is using his personal credibility to fundraise for dams.
Pedigree: Imran Khan started fund-raising for a cancer hospital soon after his mother died from cancer. His appeal within Pakistan and to the diaspora Pakistani community raised enough funds to open the Shaukat Khanum Memorial Cancer Hospital and Research Centre in 1994, in Lahore. It is a hugely successful project with 75% of patients receiving free treatment. He also spearheaded a successful project to build Namal University, which provides scholarship assistance to over 90% of its students.
A Sporting Legend: Imran Khan played professional cricket for 22 years and is recognised as one of the game's finest all-rounders. His ability to lead and unite an often disparate team, culminated in Pakistan winning the 1992 world cup. It is this ability and success that many hope can be replicated in the political field.
Personal Life: His three marriages have all attracted considerable media attention. The first to Jemima Goldsmith, the second to Reham Khan, and the third to his current wife Bushra Maneka.
---
Top 50 Muslim Influentials
---
1- President Recep Tayyip Erdogan (President of the Republic of Turkey)
2- King Salman bin Abdul Aziz (King of Saudi Arabia)
3- King Abdullah II Ibn Al Hussein (King of the Hashemite Kingdom of Jordan)
4- Grand Ayatollah Hajj Sayyid Ali Khamenei (Supreme Leader of the Islamic Republic of Iran)
5- King Mohammed VI (King of Morocco)
6- Justice Sheikh Muhammad Taqi Usmani (Religoius Scholar)
7- Grand Ayatollah Sayyid Ali Hussein Sistani (Marja of the Hawza, Najaf, Iraq)
8- Sheikh Al Habib Umar bin Hafiz (Director of Dar Al Mustafa, Tarim, Yemen)
9- Professor Dr Sheikh Ahmad Muhammad Al Tayyeb Grand Sheikh of Al Azhar University, Grand Imam of Al Azhar Mosque)
10- Sheikh Salman Al Ouda (Saudi scholar and educator)
11- Sheikh Abdullah bin Bayyah (President of the Forum for Promoting Peace in Muslim Societies)
12- Sultan Qaboos bin Sa id Al Sa id (Sultan of Oman)
13- Crown Prince Muhammad bin Salman(Crown Prince of Saudi Arabia)
14- Hajji Muhammad Abdul Wahhab (Amir of Tablighi Jamaat, Pakistan)
15- HH General Sheikh Mohammed bin Zayed Al Nahyan (Crown Prince of Abu Dhabi)
16- President Joko Widodo (President of Indonesia)
17- President Muhammadu Buhari (President of Nigeria)
18- Sheikh Dr Ali Gomaa Former (Grand Mufti of the Arab Republic of Egypt)
19- Emir Sheikh Tamim bin Hamid Al Thani (Emir of Qatar)
20- Professor Dr KH Said Aqil Siradj (Chairman of Indonesia's Nahdlatul Ulama)
21- Amirul Mu'minin Sheikh As Sultan Muhammadu Sa adu Abubakar III (Sultan of Sokoto)
22- Sheikh Ahmad Tijani bin Ali Cisse (Leader of the Tijaniyya Sufi Order)
23- Seyyed Hasan Nasrallah Secretary General of Hezbollah
24- Sheikh Habib 'Ali Zain Al Abideen Al Jifri (Director General of the Tabah Foundation)
25- Sheikh Hamza Yusuf Hanson (Teacher and Co Founder of Zaytuna College)
26- Sheikh Abdul Aziz ibn Abdullah Aal Al Sheikh (Grand Mufti of the Kingdom of Saudi Arabia)
27- Sheikha Munira Qubeysi (Leader of the Qubeysi)
28- Rached Ghannouchi (Tunisian Politician)
29- Imran Khan (Prime Minister of Pakistan)
30- Sheikh Dr Yusuf Al Qaradawi (Head of the International Union of Muslim Scholars)
31- Moez Masoud (Preacher and Televangelist)
32- Maulana Mahmood Madani (Leader and Executive Member of Jamiat Ule ma e Hind, India)
33- Dr Amr Khaled (Preacher and Social Activist)
34- Mustafa Hosny (Preacher)
35- Sheikh Usama Al Sayyid (Al Azhari Scholar)
36- HH Shah Karim Al Hussayni, The Aga Khan IV (The Aga Khan)
37- Habib Luthfi bin Yahya (Preacher)
38- Sheikh Abdul Malik Al Houthi (Leader of the Houthis)
39- Sheikh Mahmud Effendi (Turkish Scholar and Preacher)
40- Maulana Tariq Jameel (Pakistani Scholar and Preacher)
41- Halimah Yacob (President of Singapore)
42- Sheikh Muhammad Al Yaqoubi (Scholar)
43- Professor Dr Seyyed Hossein Nasr (Philosopher and University Professor)
44- Mahathir Mohamad (Prime Minister of Malaysia)
45- Sheikh Uthman Taha (Calligrapher)
46- Mohammed Salah (Footballer)
47- Sheikh Muqtada Sadr (Scholar and Politician)
48- HE Dr Aref Ali Nayed (Scholar)
49- Ahed Tamimi (Palestinian Activist)
50- Mohamed Bechari (Political)