Nation supported PML-N in by-polls despite all conspiracies: Nawaz Sharif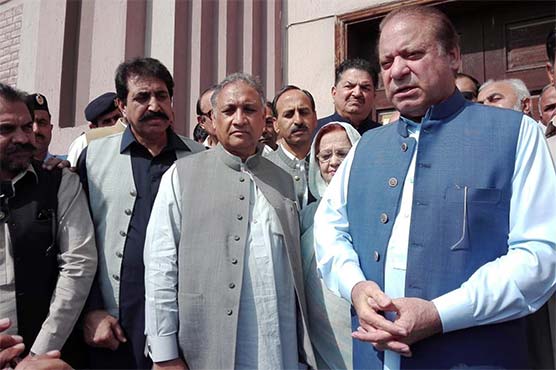 Inflation has increased in the first 50 days of the incumbent government, said Nawaz.
ISLAMABAD (Dunya News) – Former Prime Minister Nawaz Sharif on Monday has thanked the nation for supporting Pakistan Muslim League-Nawaz (PML-N) in by-election despite all the conspiracies.
Talking to media outside the accountability court, Nawaz Sharif said that PML-N has won Pakistan Tehreek-e-Insaf's (PTI) seats. By-election results are indicative of the time to come, he predicted.

He said that PTI has failed to run the country in a smooth way, adding inflation has increased in the first 50 days of the incumbent government. During the PML-N tenure, dollar did not surpass Rs104 but now, everyone can witness where its rate has touched in the last 50 days, he stated.

The ex-PM went on to say that PML-N is facing worst kind of political revenge. As a prime minister, I always served the people with honesty and hardworking, he said.
It is to be mentioned here that PTI and PML-N won four National Assembly seats each in the by-election, according to unofficial results. A total of 370 candidates contested the by-election on 11 National Assembly seats.
The total registered voters in the country reached the figure of 106,000,239 with 59,243,889 male (55.89 percent) and 46,756,350 female (44.11 percent) voters. 60,697,418 voters were from Punjab, 22,394,212 voters from Sindh, 17,839,845 voters from Khyber Pakhtunkhwa (including FATA), 4,302,304 voters from Balochistan and 766,460 voters from federal capital.
Overseas Pakistanis voted for the first time in the by-polls. The commission said that as many as 7,364 eligible I-voters received their voters' passes to participate in the polling.