PM Imran orders to remove officials involved in Model Town tragedy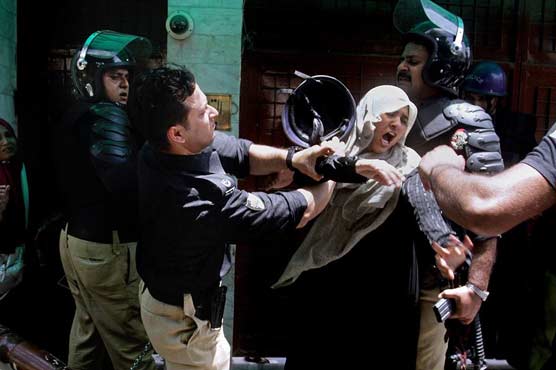 The prime minister says PTI government was committed to ensure provision of justice for all
LAHORE (Dunya News) – Prime Minister Imran Khan on Thursday ordered to remove officials involved in the Model Town incident from their posts.
Sources told Dunya News that PM Imran Khan telephoned Punjab Chief Minister Sardar Usman Buzdar and directed him to remove the officials involved in Model Town tragedy from their posts.
It is pertinent here to mention that during the telephonic conversation earlier today, PM Imran Khan had assured Dr Tahir ul Qadri that the victims of the Model Town massacre would get justice.
He reiterated his resolve that those responsible for the ruthless murder of innocent workers of the PAT in Model Town, Lahore would get justice.
The prime minister said that the PTI government was committed to ensure provision of justice for all and said there would be no compromise on it.
Imran Khan went on to say that the Punjab Chief Minister Sardar Usman Buzdar needs to ensure that action as per law was taken against all those responsible for the killings and said they need to be removed of their posts so that impartial legal action may proceed.
On the occasion, the PAT chief discussed the latest developments related to the Model Town massacre following the verdict of the LHC that rejected request of the PAT to summon 12 parliamentarians including deposed prime minister Nawaz Sharif and former Punjab chief minister Shahbaz Sharif in the case.
Dr Qadri was appreciative of the assurance of prime minister for justice in the case and said he has rekindled hope amongst the families of the victims. He said the families of those who lost their loved ones would be grateful to the prime minister if justice is done.
---
Tahirul Qadri to challenge LHC's verdict in SC
---
On Wednesday, Pakistan Awami Tehreek (PAT) Chief Dr Tahirul Qadri had announced to challenge Lahore High Court's (LHC) verdict pertaining to Model Town Case in the Supreme Court.
Reacting to the LHC's verdict, he said how would justice be served without summoning the master minds of Model Town incident. He said the powerful is as powerful as he was and justice is still weak as "servants were summoned in the case, not their owners".
Recalling the bloody day of June 17 2014 he asked if "ants, not humans were killed. The world had witnessed atrocities of Police through media. He demanded the summoning of real perpetrators behind the incident.
---
LHC turns down PAT s plea
---
Earlier Wednesday, the Lahore High Court (LHC) had turned down Pakistan Awami Tehreek's (PAT) plea seeking summons of ex-prime minister Nawaz Sharif, former Chief Minister of Punjab (CM) Shehbaz Sharif and ten other ministers in a case pertaining to Model Town carnage.
It is to be mentioned here that PAT, in its appeal against the ruling of the trial court, had requested LHC to call former ministers Khawaja Saad Rafique, Rana Sanaullah, Khawaja Asif and others in the case.
The report compiled by Justice Baqir Ali Najfi of LHC directly held Punjab government responsible for 'bloodbath' in Model Town area. It was stated in the report that Shehbaz Sharif had not ordered the police to 'disengage' from the clashes with PAT supporters.
It further revealed that Minhajul Quran International (MQI) workers hurled stones at police and in return they were fired upon. Police followed Punjab Punjab government's orders.
On June 17, 2014, Punjab police went to remove the barriers placed outside PAT Chief Dr Tahirul Qadri's residence and MQISecretariat in Model Town. The workers of MQI resisted the move which led to a deadly clash leaving 14 workers dead and dozens injured.