Last Updated On 19 September,2018 08:50 pm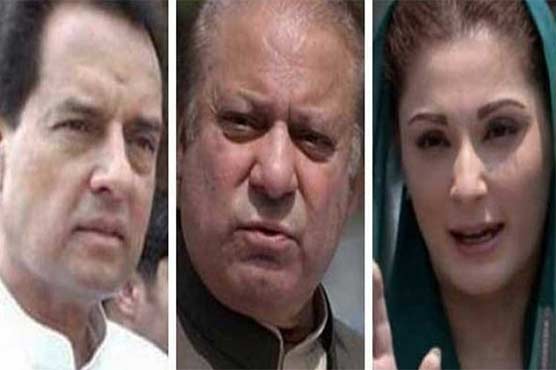 They are being taken to Noor Khan Airbase amid stringent security
RAWALPINDI (Dunya News) – Former prime minister and Pakistan Muslim League-Nawaz (PML-N) supremo Nawaz Sharif, his daughter Maryam Nawaz and son-in-law Captain (r) Muhammad Safdar have been released from Adiala jail after the Islamabad High Court (IHC) suspended their sentences in the Avenfield reference.
The release came hours after a court suspended the sentences of Sharif and his daughter Maryam, who were jailed shortly before July s general election.
The Islamabad High Court (IHC) had ordered the release of Nawaz Sharif, his daughter and son-in-law after suspending their prison sentences for corruption pending an appeal hearing.
Former Punjab CM and PML-N president Shehbaz Sharif had reached Adiala jail to take his brother and party supremo with him.
Thousands of PML-N supporters who were present outside Adiala Jail showered Sharif, his daughter and son-in-law Safdar with rose petals.
They reached Noor Khan Airbase amid stringent security from where they will leave for Lahore via a special plane.
Justice Athar Minallah, while announcing the verdict had directed to release ex-prime minister Nawaz Sharif, his daughter Maryam Nawaz and son-in-law Captain (r) Safdar over surety bonds worth Rs0.5 million each until final decision on their pleas.
During the hearing, National Accountability Bureau (NAB) prosecutor had said that no evidence regarding transfer of 12 million dirham has been found while the agreement of selling 25 percent shares of Gulf Steel Mills was also fake. United Arab Emirates (UAE) authorities have also not verified the transfer of the money, he added.
Responding to the question, NAB prosecutor said the accused adopted the stance in Supreme Court (SC) that they bought London flats by selling Gulf Steel Mills. He said Maryam Nawaz had told the Panama Joint Investigation Team (JIT) that she is her father's dependent.
Earlier, the bench inquired why Maryam Nawaz had been convicted under Section-9A of the NAB's ordinance if assets were owned by Nawaz Sharif. The bench further asked how two individuals can be convicted on assets owned by a single person.
"How Nawaz Sharif can own property when the ownership of the same rests with his children? Does court announce verdict merely on basis of this myth?", remarked Justice Athar Minallah.
NAB's prosecutor argued law turns onus of proof on accused after ownership of flats [by Sharifs] has been established. He said, "The agreement of money transfer turned out to be fake. Likewise, the deed declaring Maryam Nawaz trustee was also proved fake. She possesses assets beyond her declared source of income".
NAB prosecutor further added Sharifs had not registered 'Calibri font' trust deed in UK. He said, "Maryam Nawaz crafted this trust deed and declared his brother beneficial owner".
---
Convicted and sentenced
---
It is pertinent here to mention that former prime minister Nawaz Sharif, Maryam Nawaz and Captain Safdar were convicted and sentenced to prison in absentia for ten years, seven years and one year respectively, in Avenfield verdict.
Maryam Nawaz and Captain (r) Safdar, who were candidates for the general elections 2018, were also disqualified from contesting elections for 10 years each.
The sentence and a fine of 8 million pounds, or $10.6 million, came almost a year after Supreme Court removed Sharif from office and less than five months after the court barred him from holding office for life.
Nawaz Sharif was convicted under section 9(a)(5) of the NAB ordinance.
The case stemmed from the Panama Papers leak that disclosed expensive and undeclared property owned by the Sharif family in London.