Last Updated On 08 September,2018 05:36 pm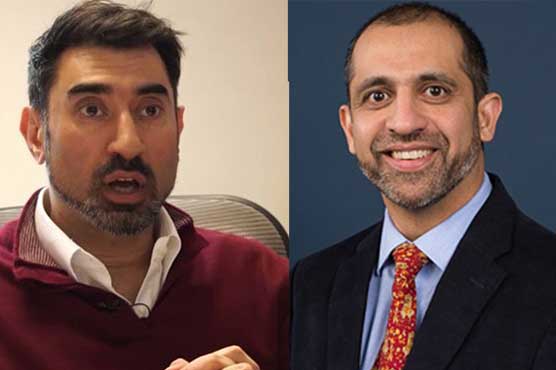 The move comes when PTI govt's immediate challenge is to resurrect the country economic conditions
ISLAMABAD (Dunya News) – Following the resignation of Princeton University economist Atif R Mian, two more members of the Economic Advisory Council (EAC) have tendered their resignations.
The resignations of London-based economist Dr Imran Rasul and Harvard University's Evidence for Policy Design unit co-director Asim Ijaz Khwaja came at a time when the newly elected government's immediate challenge is to resurrect the country sagging economic conditions with depreciating currency, widening current account deficit and low tax to GDP ratio.
On Twitter, Dr Imran Rasul wrote that he had resigned from EAC in the morning as he profoundly disagreed with the circumstances under which Mian was asked to resign from the council. "Basing decisions on religious affiliation goes against my principles, or the values I am trying to teach my children," he further wrote.
He said that if there was one academic Pakistan needed, it was Atif R Mian. "The establishment of the EAC and its members offered a great opportunity for better economic policy. Events these past 10 days have shown the best and worst of Pakistani politics at the moment."
Read Also: Govt asks Atif Mian to step down from Economic Advisory Council
Rasul wished the EAC and the government luck and said that he was willing to offer 'non-partisan, evidence-based advice'.
On other other hand, Asim Ijaz Khwaja also announced wrote on his twitter account that they will not be part of the prime minister's council.
He said: "Have resigned from EAC. Painful, deeply sad decision. Grateful for chance to aid analytical reasoning but not when such values compromised. Personally as a Muslim I can t justify this. May Allah forgive/guide me and us all. Ever ready to help. Pakistan Paindabad"
On Friday, renowned Princeton University economist Mian, a member of the Ahmadi community, was asked to step down after allegedly receiving back lash from the religious groups and few of the political opponents.
Atif Mian was appointed a member of economic advisory council by Prime Minister Imran Khan. He is among IMF's top 25 economist. Khan received a lot of criticism.
Read More: Naya Pakistan govt receives a harsh criticism over asking Atif Mian to step down from EAC
Mian, announcing his resignation on Twitter wrote, "For the sake of the stability of the government of Pakistan, I have resigned from the Economic Advisory Council, as the government was facing a lot of adverse pressure regarding my appointment from the Mullahs (Muslim clerics) and their supporters."
Prime Minister Khan, in his first address to the nation, underlined the need for immediate, stringent reform measures and actions to put the sagging economy of the country back on track. He said that Pakistan must be able to stand on its own without aids from other countries, besides the International Monetary Fund and the World Bank.
Pakistan would require about $3 billion immediately to ensure that it does not default on loans from the IMF and World Bank.