PML-N's Sania becomes youngest MPA in Punjab Assembly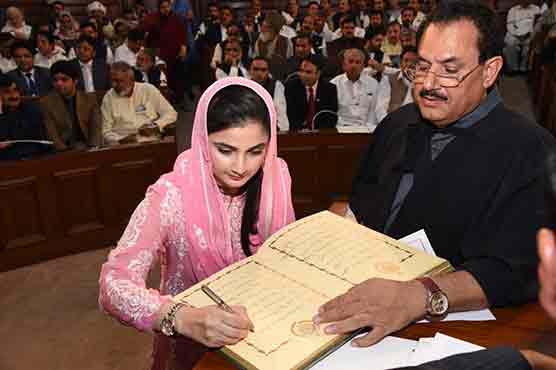 25-year-old old Sania Ashiq says committed to serve humanity
LAHOER (Dunya News) – Following the July 25 general elections, newly elected youngest Member Provincial Assembly (MPA) of Pakistan Muslim League-Nawaz (PML-N) Sania Aashiq on Monday sworn-in.
She took oath along with other newly-elected MPAs as lawmaker in in the inaugural session of Punjab Assembly in Lahore as PML-N represents youth of the country.
newly-elected MPAs took oath of their office in the inaugural session of Punjab Assembly in Lahore on Wednesday.
Outgoing speaker Punjab Assembly Rana Mohammad Iqbal administered oath to the MPAs.
The PML-N leads with 127 seats in the assembly, while PTI is a close second with 122 seats, as per the ECP's results of 294 out of 295 total seats.
In her remarks, 25-year-old old Sania Ashiq said that she is committed to serve humanity.
She said: "While being in the assembly, I will make sure the projects that were setup by PMLN government for women empowerment, namely VAWC Multan, Zewar-e-Taleem, etc, they must continue to serve girls, and women."
She further said that she will try to expand and promote these projects for the greater public interest, specially for women population.
"From PEEF scholars to other initiatives designed specially for women I shall continue to raise my voice and play a vital role in it."