PTI's Asad Qaiser sworn in as 21st National Assembly Speaker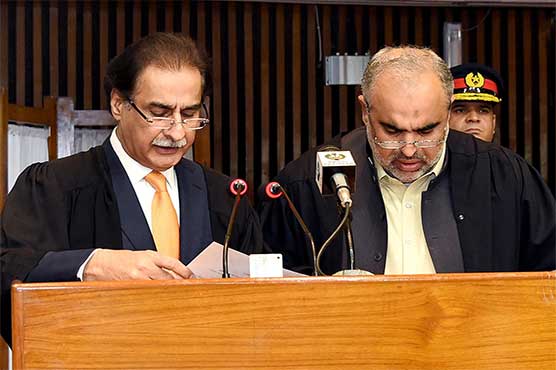 Asad Qaiser has been elected as the 21st Speaker for the National Assembly.
ISLAMABAD – Pakistan Tehreek-i-Insaf's (PTI) Asad Qaiser on Wednesday sworn in as the 21st Speaker for the National Assembly amid opposition ruckus.
Qaiser bagged 176 votes while Pakistan Peoples Party's (PPP) Syed Khurshid Shah received 146 in the secret balloting process. A total of 330 votes were cast among which eight were rejected.
Outgoing speaker Ayaz Sadiq administered oath to new speaker who will supervise the election of the deputy speaker for the Lower House of Parliament.
Opposition parties lodged a strong protest as the new speaker was sworn in. They raised slogans of "Vote ko Izzat Do" and "Jali Mandate Na Manzoor".
---
---
As Asad Qaiser's efforts to maintain order in the House went vain, he adjourned the session for 15 minutes.
The polling initiated after a delay of more than an hour due to late arrival of MNAs. As the proceedings begun, oath was administered to five MNAs-elect who failed to attend the inaugural session.
Lawmakers belonging to various political parties, including prime minister-in-waiting Imran Khan and Pakistan Peoples Party (PPP) chairman Bilawal Bhutto Zardari, are present in the Lower House of Parliament for the election.
---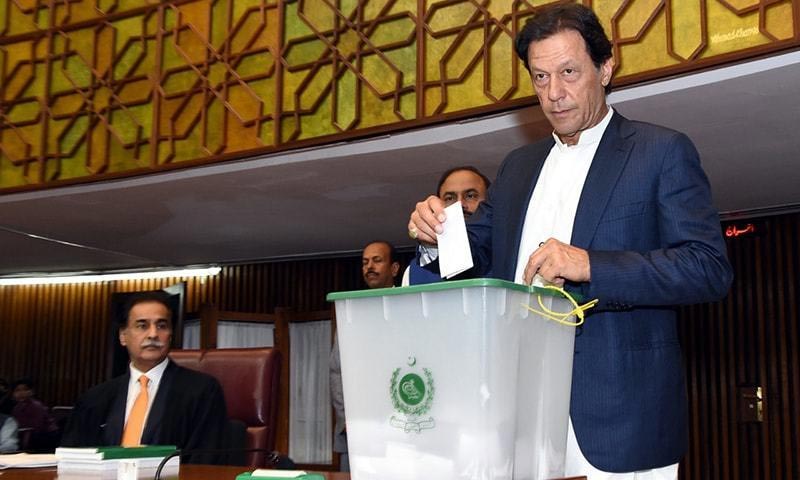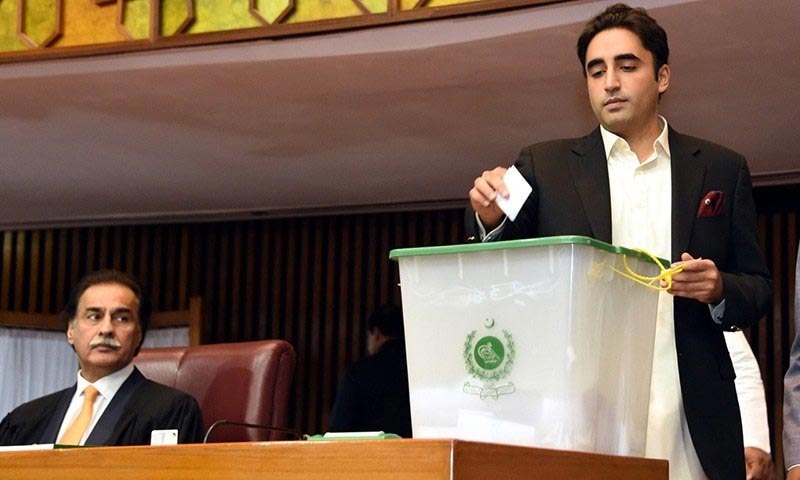 Imran Khan and Bilawal Bhutto cast their vote during NA session. --- Online Photo
---
PTI chairman forgot to bring his NA registration card with him and was objected by the polling agent of PPP. However; Ayaz Sadiq intervened and permitted Khan to cast his vote.
---
---
Amongst the prominent figures who cast vote included Bilawal Bhutto Zardari, PPP Co-Chairman Asif Ali Zardari, Asad Qaiser of PTI, Pakistan Muslim League (PML-N) president Shehbaz Sharif Khurshid Shah, Khawaja Muhammad Asif and Sardar Ayaz Sadiq.
---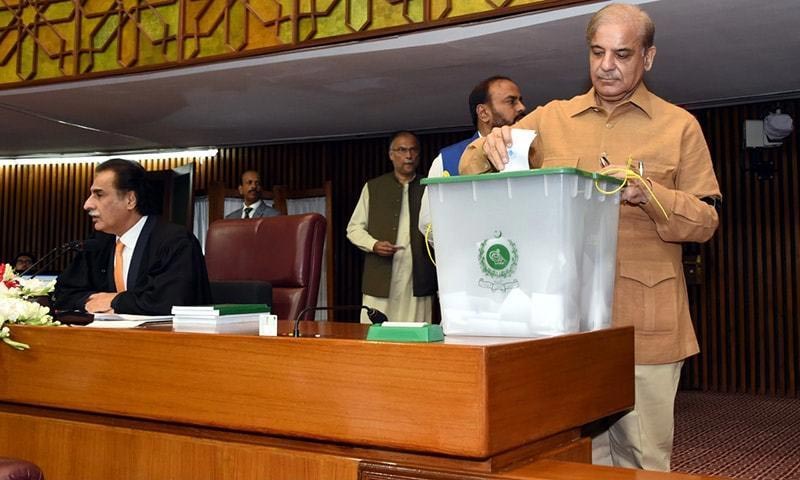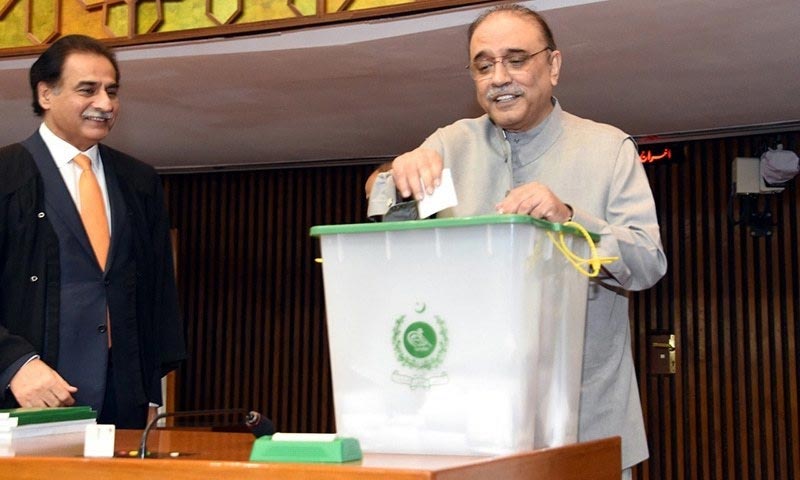 Shehbaz and Zardari cast their vote during NA session. --- Online Photo
---
Politicians address the House
---
As the session resumed, NA speaker Asad Qaiser assured that the staff will cooperate with the members of the House during his speakership. He stressed the members to abide by the constitution and ensure attendance in the assembly.
Khurshid Shah while praising th outgoing speaker hoped that the new parliament complete its five-year tenure. He asserted that the opposition will play their role in the leadership of Bilawal.
Sheh Mehmood Qureshi expressed gratitude to all the allies of PTI for their support and approved the stance of opposition while terming it their democratic right.
Ayaz Sadiq congratulated the new speaker and extended thanks to PML-N supremo Nawaz Sharif for appointing him on the post. He vowed not to use any derogatory word for the speaker that were hurled at him during his tenure.
---
PTI s Qasim Suri Elected Deputy Speaker
---
Pakistan Tehreek-e-Insaf's (PTI) candidate Qasim Khan Suri on Wednesday sworn in as the 21st Speaker for the National Assembly.
Qasim Khan Suri secured 183 votes while Joint candidates of opposition party Maulana Asad Mehmood could only obtain 144 votes. A total of 330 votes were cast among which one vote was rejected.
Newly elected NA Speaker Asad Qaiser administered oath to new deputy speaker for the Lower House of Parliament.
In his remarks after being elected NA Deputy Speaker, Suri thanked PTI chairman Imran Khan for reposing trust in him. He also thanked his opponent Maulana Asad Mahmood and those who voted for him.
He said that he belongs to Balochistan where innocent people were martyred on the election day, but despite the incident, the people of the province exercised their right to vote.
He regretted that the Balochistan was treated like a colony despite providing gas to the entire country and hatred was spread.
He vowed to give rights to the province and bring peace.
The newly-elected NA deputy speaker said that they will bring the angry Baloch brothers back into the national mainstream.
---
ABOUT QASIM SURI
---
Qasim Khan Suri was born in January 1969 in Quetta to a Pashtun family of Khilji and received his early education from the Quetta and enrolled in Federal Government College in 1988.
He received a bachelor's degree in political science in 1990 and a Master's degree in international relations in 1992, both from the University of Balochistan.
Suri have been associated with Pakistan Tehreek-e-Insaf (PTI) since 1996 but became active member in 2007.
He ran for the seat of the National Assembly of Pakistan as a candidate of PTI from Constituency NA-259 (Quetta) in Pakistani general election, 2013 but was unsuccessful. He received 16,006 votes and lost the seat to Mahmood Khan Achakzai.
He was elected to the National Assembly as a candidate of PTI from NA-265 (Quetta-II) in general election, 2018 by receiviung 25,973 votes and defeated Nawabzada Lashkari Raisani.
---
ABOUT ASAD QAISER
---
Asad Qaiser Khan has remained the 14th speaker of the Khyber Pakhtunkhwa Assembly between 2013 and 2018. During General Election 2018, he has won National Assembly seat from NA-18 constituency of Swabi District of Khyber Pakhtunkhwa.
Asad Qaisar is one of the founding and prominent workers of Pakistan Tehreek-e-Insaf in KPK. He was also the president of Pakistan Tehreek-e-Insaf, Khyber Pakhtunkhwa, until 2013 where he had to resign due to his election as speaker, a role which PTI claims should be neutral
He was born on 15 November 1969 in Swabi District of Khyber Pakhtunkhwa. He belongs to a very respected family in the village of Marghuz, Swabi District. He received his early education from Government higher secondary school in Marghuz, and later graduated from University of Peshawar.
Asad Qaiser joined PTI in 1996 and began his career in PTI as a worker and rose to the rank of district president of Swabi. He was initially appointed as the provincial President of PTI in 2008. The office he held till 2011 when the provincial leadership was dissolved by chairman PTI Imran Khan prior to the Intra-Party elections.
In March 2013, he won the intra party elections. In the 2013 general elections he stood from NA-13 SWABI-II and PK-35 SWABI-V where he was elected as legislator from both but he held on to PK-35 SWABI-V constituency of Khyber Pakhtunkhwa Assembly against his candidate from PML-N, and then got elected by the provincial assembly, as Speaker of the Khyber Pakhtunkhwa Assembly and served till 2018.