Last Updated On 04 August,2018 12:15 pm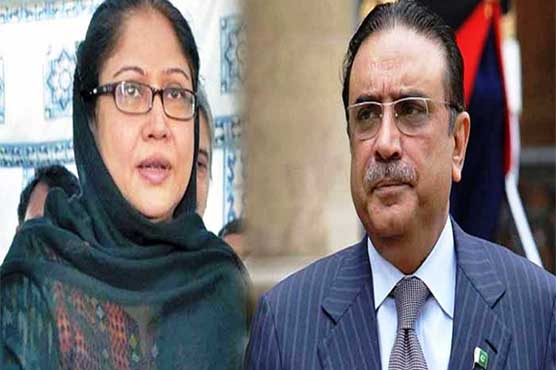 Both were summoned to record their statement before the JIT.
ISLAMABAD (Dunya News) – Pakistan Peoples Party (PPP) supremo Asif Ali Zardari and his sister Faryal Talpur failed to appear before Joint Investigation Team (JIT) of Federal Investigation Agency (FIA) ON Saturday in a corruption case relating to fake accounts and fictitious transactions worth Rs35 billion.
Both were summoned to record their statement before the JIT. Notices were also issued to them FIA. Zardari's close aide Hussain Lawai is also in FIA's custody in the case.
On July 30, Talpur challenged FIA's interim challan and submitted Rs20 lac bail amount in court.
She adopted stance in the plea that no mention of money laundering has been made in the FIR while her role is also not clear stated in the challan. She has denied all the accusation levelled against her.
Federal Investigation Agency (FIA) on Thursday has obtained undeniable and concrete evidence in Asif Ali Zardari and Faryal Talpur money-laundering case, well informed sources told Dunya News.
On the other hand, sources privy to FIA—on condition of anonymity—revealed a VIP figure allegedly transferred Rs300 mln to account of another VIP figure whereas probe into the matter has been expedited. The investigation body will submit evidence in the accountability court today.
---
Money laundering scandal
---
Asif Ali Zardari, Faryal Talpur and their associates are accused of sending Rs35 billion abroad through fake accounts after which, their names were placed on Exit Control List (ECL)
The police first investigation report (FIR) stated that M/S Zardari Group (Asif Ali Zardari, Faryal Talpur, etc) got Rs15,000,000 and were among the beneficiaries of the transaction trail of fake bank accounts maintained by Omni Group, owned by Anwar Majeed, another close aide of the former president.
Lawai and his associates are accused of opening 29 fake accounts in the Summit Bank and United Bank of Pakistan Limited.