Shehbaz Sharif likely to be leader of opposition in National Assembly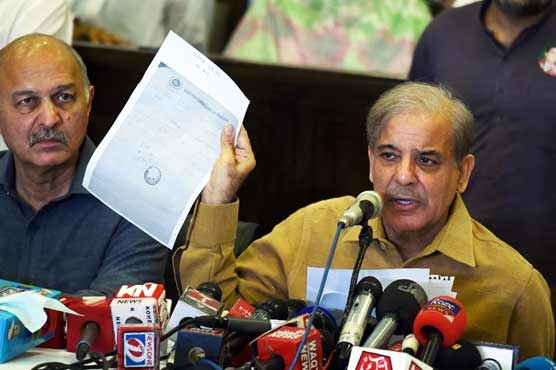 Khawaja Saad Rafique would be leader of opposition in Punjab assembly
LAHORE (Dunya News) – The top brass of the Pakistan Muslim League-Nawaz (PML-N) on Friday decided that former Punjab CM and party president Shehbaz Sharif would be the leader of opposition in National Assembly.
The decision was taken in a meeting held at the party's central office in Model Town.
During the meeting, the party leadership also decided that Hamza Shehbaz would be the strong candidate for the post of Punjab's chief minister.
The meeting further decided that Khawaja Saad Rafique would be leader of opposition in Punjab assembly if PML-N couldn't form government in the province.
The PML-N has also started making efforts to form government in Punjab.
The party's leadership said that they won't let the system weaken but instead they would continue their struggle to strengthen democracy.
In Punjab Assembly, PML-N is leading the tally with 127 seats followed by PTI 123, independents 29, PML-Q 7, PPPP 6, and one each by Balochistan Awami Party, Pakistan Muslim League (F) and Pakistan Awami Raj.
Meanwhile, according to the data shared by the election commission of Pakistan, PTI has secured 115 seats in the National Assembly followed by PML-N, 62, PPP, 43, independents, 14, Muttahida Majlis-e-Amal, 11, MQM, 6, Pakistan Muslim League-Q, 5 and two each by Balochistan National Party and the Grand Democratic Alliance.
On Wednesday, millions of Pakistanis voted to elect a new government and prime minister in a peaceful elections held in free, fair and transparent manner.
Around 800,000 police and military forces were stationed at more than 85,000 polling stations across the country as the voting took place.
Wednesday's election was only the second democratic transition of power in Pakistan s 70-year coup-studded history.
Pakistan is a country of approximately 207 million people, out of which the number of registered voters are about 106 million. The voting for the Pakistan election, which took place between 8:00 am local time (8:30 am IST) and 6:00 pm (6:30 pm IST), saw more than 3,000 candidates contesting for 272 general seats of the National Assembly, while some 8,000 candidates ran for 577 general seats of the four provincial assemblies - Punjab, Sindh, Khyber Pakhtunkhwa, and Balochistan.