Last Updated On 20 November,2019 10:15 pm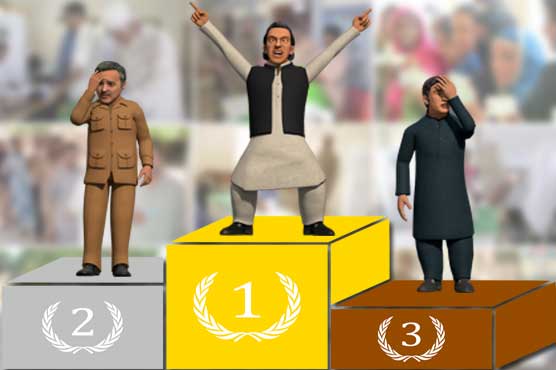 Final list of Pakistan General Election 2018 winners.
ISLAMABAD (By: Tayyab Younas) - Election Commission of Pakistan (ECP) has announced final results of all the constituencies of the national and provincial assemblies on Saturday, more than 56 hours after the conclusion of voting for the 2018 General Elections in the country.
According to an update issued by the ECP, Imran Khan's Pakistan Tehreek-i-Insaf (PTI) party has won 116 of the 270 National Assembly seats, emerging as the largest political party in the country. The PML-N grabbed 64 seats, while the PPP is in third place with 43 National Assembly seats.
READ: Political bigwigs face major upsets
Similarly, Mutahida Majlis Amal (MMA) secured 12 seats and Pakistan Muslim League (Q), Balochistan Natioanl Party, Mutahida Qaumi Movement Pakistan, and Balochistan Awami Party has secured 4, 02, 06, and 04 seat respectively.
Awami National Party (ANP) has won one seat, Awami Muslim League (AML), Pakistan Tehreek-i-Insaniyat and Jamhoori Wattan Party (JWP) have also grabbed one NA seat each.
Fourteen independent candidates have also remained successful in their constituencies. They are likely to play an important role in formation of the federal government.
List of winning parties as per data compiled by Election Commission of Pakistan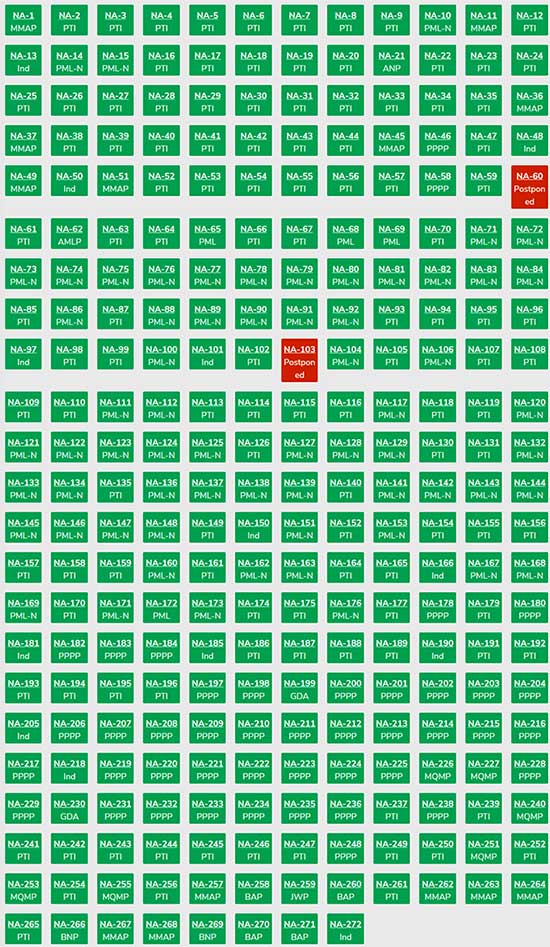 CLOSE COMPETITION BETWEN PML-N AND PTI IN PUNJAB
In Punjab Assembly, out of received results of over 297 seats, PML-N is taking lead with 129 seats while PTI managed to secure 123 seats so far. Independents have secured 28 seats, Pakistan Muslim League (Q) secured 07, PPP 06, BAP 01, PMLF 01 and PAR won 01 seat.
PPP LEADS IN SINDH

In Sindh Assembly, out of 130 seats, PPP has secured highest 76 seats while PTI won on 23, MQMP 16, TLP 2, MMA 1 and Grand Democratic Alliance on 11 seats.
PTI DOMINATES KP

In Khyber Pakhtunkhwa Assembly, the ECP received results of 96 out of total 97 seats out of which PTI took 66 seats while MMA, ANP, PML-N, and PPP won on 10, 06, 05, and 04 seats respectively.
BAP LEADS IN BALOCHISTAN

Likewise in Balochistan assembly, Balochistan Awami Party, BNP-M and MMA have clinched majority seats. The BAP has emerged as the largest party in Balochistan with 15 provincial assembly seats, with MMA in the second place with nine.
PTI has won four, Pakhtunkhwa Milli Awami Party (PkMAP) has secured only a single seat, while PML-N also winning only one.
Jamhoori Wattan Party (JWP) of Shahzain Bugti has won a single seat while five independent candidates have also won in the province.
Updated list of Pakistan General Election 2018 winners - National and Provincial Assemblies
VOTER TURNOUT
According to the election commission of Pakistan, the voter turnout in the National Assembly elections remained 51.85 percent.
The highest voter turnout of 55.09 percent was recorded in the Punjab assembly elections followed by Sindh 48.11, Khyber Pakhtunkhwa 45.52 and Balochistan assembly 51.85 percent.
Party Wise Vote Bank - National Assembly
IMRAN KHAN VICTORY SPEECH
Earlier on Thursday night, Pakistan Tehreek-e-Insaf (PTI) chairman Imran Khan claimed victory, despite allegations of massive vote-rigging in favour of the cricket hero-turned-politician.
"We were successful and we were given a mandate," he said from his home in the capital Islamabad, adding in a conciliatory note that there would be "no political victimisation" of his opponents in the future.
READ: Policy statement by PTI chief Imran Khan
The former all-rounder's statement came after his supporters took to the streets to celebrate winning an election that opponents have said the military fixed for him.
The Election Commission of Pakistan has dismissed allegations of manipulation -- blaming the delay on glitches in new, untested counting software -- and said there would be a result by Friday.
FAFEN REPORT
FAFEN has expressed satisfaction on the overall conduct of general election 2018, declaring it better than that of 2013 general elections.
In a report released today, the Network said more than half of Pakistan's registered voters went to the polls on July 25, 2018 to mark the second consecutive democratic transition of power, clearing the uncertainties over the future of democracy in the country.
It said Election Day was better managed, relatively peaceful and free of any major controversy. However some concerns were shown over the transparency of the counting process, and the subsequent slow process of announcement of provisional results prompted some political parties to reject the election results.
The deployment of as many as 371,000 armed forces personnel on election duties ensured the peaceful conduct of Election Day amid heightened threats of subversive acts.
According to the FAFEN assessment the highest turnout of voters was in Punjab, where 59 percent of registered voters went to the polls in 127 National Assembly constituencies.
In all three National Assembly constituencies in Islamabad the turnout was 58.2 percent, followed by 47.7 percent in 52 National Assembly constituencies in Sindh, 43.6 percent in 50 National Assembly constituencies in Khyber Pakhtunkhwa and 39.6 percent in nine National Assembly constituencies in Balochistan.
The male turnout in these 241 constituencies was 58.3 percent, more than 10 percent higher than the female turnout.
According to the preliminary findings by FAFEN observers, the Election Day was better managed and the scale of procedural irregularities during the voting process was relatively low.
INTERNATIOAL OBSERVERS
International observers, including a European Union delegation, are due to give their preliminary assessments of the vote Friday, after rival parties, including the outgoing Pakistan Muslim League-Nawaz (PML-N), alleged "blatant" rigging.
OPPOSITION PARTIES REJECT RESULTS
Late Wednesday, the once-mighty PML-N, which had been in power since 2013, rejected the results and vowed it would mount a legal challenge.
Other major parties -- including the Pakistan Peoples Party (PPP), which could prove kingmaker in a coalition government -- have also alleged the count is being manipulated.
The delay in the results, an unofficial version of which had been expected late Wednesday, has forced election authorities to hold multiple press conferences to defend themselves.
"The election was conducted in a fair and free manner," said secretary Babar Yaqoob on Thursday.
A PTI win would represent an end to decades of rotating leadership between the PPP and PML-N that was punctuated by periods of military rule.
READ: PTI poised to form next government
Khan, who captained Pakistan to their cricket World Cup victory in 1992, campaigned on promises to end widespread graft while building an "Islamic welfare state".
Have a look at updated results here: http://dunyanews.tv/election2018