Last Updated On 14 July,2018 06:25 pm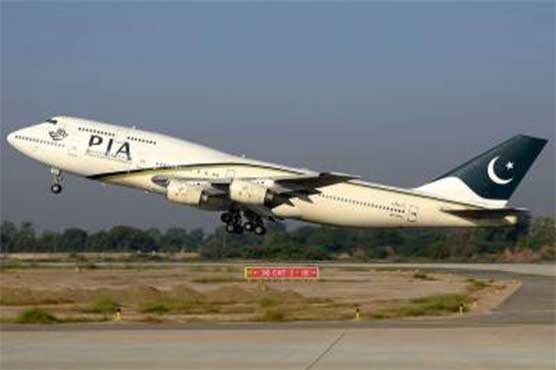 In the first two days, 1550 intending pilgrims would be sent to Saudi Arabia.
ISLAMABAD (APP): The first hajj flight PK 7003 carrying 327 intending pilgrims departed to Madina Munawwara from Islamabad International Airport on Saturday morning.
The pilgrims were seen off by additional Secretary Ministry of Religious Affairs and Interfaith Harmony Captain (Retd) Aftab Ahmed,Deputy Head of Mission,Saudi Embassy Habibullah Bukhari.
Congratulating the intending pilgrims Captain Aftab said the ministry has provided maximum facilities to intending pilgirms.The pre hajj flight operation would continue till Aug 15.
He urged the pilgrims to comply with the directions of Mauvineen e hujjaj and Saudi Authorities during their stay to make their hajj hassle free.
The pilgrims must play their role in further enhancing country's prestige and dignity.
A help line has already been activated both in Pakistan and Saudi Arabia to register and resolve complaints of the intending Hujjaj, he said.
Captain (Retd) Aftab Ahmed, Vice President Rafiq-e-Hujjaj Committee Babu Imran Qureshi briefed the intending pilgrims about Hajj rituals.
Deputy head of mission , Saudi Embassy, Habibullah Bukhari said Saudi Embassy has ensured maximum facilities to intending pilgrims this year.
Meanwhile, another Hajj flight PK-7001 carrying over 300 government Hajj scheme pilgrims left from Karachi early Saturday morning.
Ministry of Religious Affairs and Auqaf officials, Airport staff and family members of pilgrims saw off the pilgrims at Jinnah International Airport. The First Hajj flight carrying 180 intending Pilgrims also left from Lahore to Medina.
The first hajj flight carrying 180 intending pilgrims would leave for Saudia Arabia from Multan on Sunday (July 15).First Hajj flight would leave from Faisalabad on July 17.
In the first two days, 1550 intending pilgrims would be sent to Saudi Arabia.
The intending pilgrims are being intimated about their flight schedule through SMS and they can also see the schedule on the website of the Ministry.
The vaccination of intending pilgrims has already started at Hajj camps. Intending pilgrims have been asked to reach Hajj camps two days ahead of their departure schedule.
The post hajj flight operation would began from August 28 , 2018.
According to PIA spokesman, Pakistan International Airlines (PIA) would brought 60,000 intending pilgrims to Saudia thorugh 250 scheduled flights. PIA's Boing 777 and Airbus 320 would be used for bringing the intending pilgrims to Saudi Arabia.