Avenfield Reference: Nawaz, Maryam get two-day exemption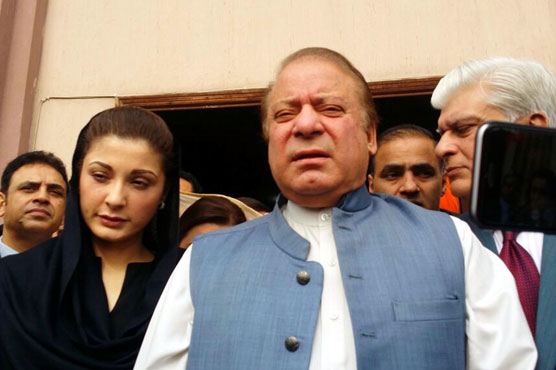 PML-N supremo and his daughter decide to return to Pakistan in a week to lead election campaign
ISLAMABAD (Dunya News) – An accountability court (AC) on Monday granted exemption from personal appearance to former prime minister and Pakistan Muslim League-Nawaz (PML-N) supremo Nawaz Sharif and his daughter Maryam Nawaz for two more days.
Accountability Court judge Muhammad Bashir resumed hearing of the Avenfield case against Sharif family filed by the National Accountability Bureau (NAB) in line with the Supreme Court verdict in Panama Papers Case.
During the proceedings, the counsel of Nawaz Sharif submitted an application seeking exemption from personal appearance of his client.
The court granted exemption from personal appearance to Nawaz Sharif and Maryam Nawaz for two more days.
On the other hand, Amjad Pervaiz, the counsel of Maryam Nawaz could not complete his arguments.
The court then adjourned the hearing till tomorrow (July 3).
The court also summoned star witness Wajid Zia, former head of the Joint Investigation Team (JIT) in Al-Azizia Reference against the Sharif family.
Khawaja Harris will tomorrow resume his arguments on Wajid Zia tomorrow at 9am.
Earlier, the PML-N supremo and his daughter had decided to return to Pakistan in a week to lead election campaign.
Sources told Dunya News that the decision to return to Pakistan was taken after consulting party's senior leadership.
Nawaz Sharif had also directed the party members to make arrangements for election campaign.
On the other hand, detailed checkup of former first lady Begum Kulsoom Nawaz will be carried out at London's Harley Street Clinic today after which ex-PM will be informed about her condition.
It is to be mentioned here that suggestion regarding earlier return of Maryam Nawaz is also under consideration.
On Sunday, Nawaz Sharif had rehashed accusations of pre-poll rigging in the forthcoming general elections 2018. He said that the same game which had been played in Senate elections was also being played in forthcoming elections.
"PML-N stalwarts are being coerced into contesting elections independently on symbol of the jeep", alleged Sharif.
Nawaz once again claimed that PML-N's candidate from Multan Rana Iqbal Siraj was subjected to torture whereas threats were hurled at his family for switching loyalties.
He said, "I never talk without verification. Truths pertaining to torture were verified from Siraj".