Last Updated On 01 July,2018 03:55 pm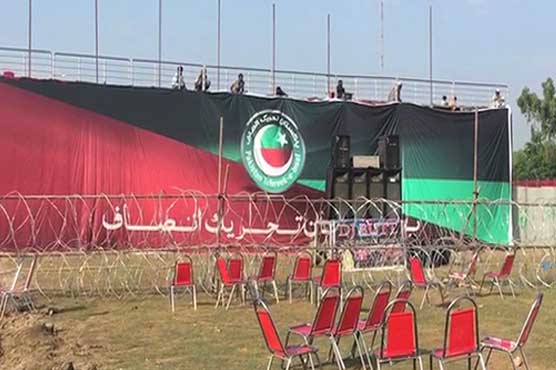 Preparations for the public gathering have been completed.
BANNU (Dunya News) – Pakistan Tehreek-e-Insaf (PTI) Chief Imran Khan will visit Khyber Pakhtunkhwa (KP) today (Sunday) to participate in a rally in Bannu.
According to details, preparations for the public gathering have been completed as the stage has been formed while chairs have also been placed at the venue.

Earlier, Imran Khan made it overtly clear on political foes that preparations for forthcoming general elections 2018 have been completed.

Khan stated that first rule of competition is to never underestimate your opponents whereas he revealed that protest on tickets' issue had inflicted pain on him.

"[As many as] 4000 people filed applications for ticket. We can't award ticket to everyone", asserted Khan.

Taking a jibe at arch rivals, Khan apprised attendants that they [read Sharif family] were caught red handed in Panama Papers case. Khan taunted that duo of father-daughter [Nawaz Sharif and Maryam Nawaz] were crying as they were subjected to great injustice.

"If a lay man had laundered money in place of Nawaz Sharif, he would have been in Adiala Jail by now", Khan said. He forecasted that Asif Ali Zardari will join forces of Nawaz Sharif in the upcoming polls.