NAB chief dispels allegations of political motives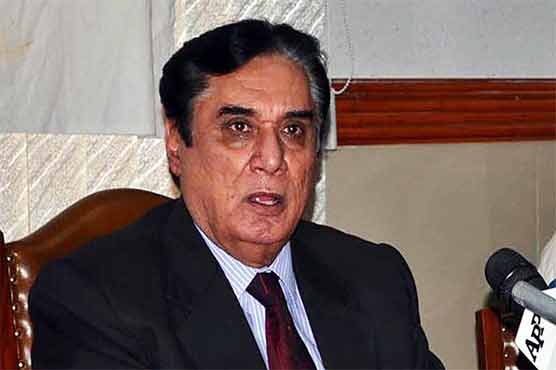 Hassan and Hussain Nawaz have been indicted in Avenfield reference.
(Dunya News) – National Accountability Bureau (NAB) chairman Javed Iqbal on Thursday dispelled accusations of targeting a specific political party.
Talking to media, the anti-graft watchdog chairman categorically dismissed allegations of having political motives. He said, "[NAB] is summoning accused for investigation. The notices of NAB aren't tantamount to invitations. It is mandatory for all of us to follow the legal path".
Read also: Nawaz Sharif directs strong protest against NAB
He went on to say that individuals—being summoned by NAB—were permitted to run the election drive as well. Iqbal reiterated that the anti-graft watchdog would continue proceedings to curb corruption.NAB chief quashed the allegations that anti-graft watchdog was more active in Punjab while warned absconders to be hunted down them no matter in what part of the world they take refugee.
On the other hand, NAB's executive board has formally decided to extradite Nawaz Sharif's son Hassan Nawaz and Hussain Nawaz through Interpol. A letter in this regard will be penned to interior ministry soon as jurisdiction to bring anyone back to country through Interpol rests with interior ministry.
Hassan and Hussain Nawaz have been indicted in Avenfield reference along with Maryam Nawaz, Nawaz Sharif and Capt (retd) Safdar. The hearing of the case is underway in an accountability court in Islamabad.