Last Updated On 09 June,2018 02:49 pm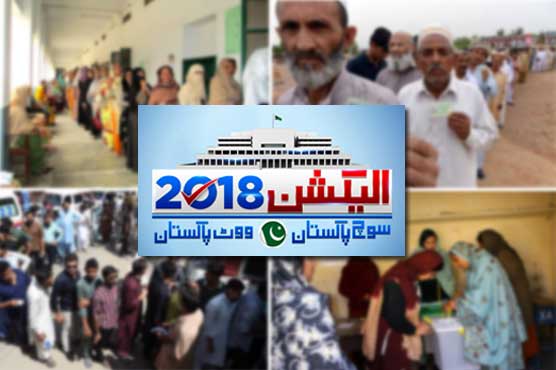 As per ECP data, 55.9% of the registered voters in Pakistan are males while only 44.1% are females.
(Web Desk) - Voter registration is crucial for political participation in a democratic context. It guarantees basic right of all eligible citizens to participate in the affairs of their government and is one of the cornerstones of democracy. Therefore, authentic, updated and error free electoral rolls are pre-requisite for conducting free and fair elections in any country.
The accuracy and credibility of the electoral rolls has direct impact on credibility and acceptance of whole electoral process, as this is a fundamental instrument towards self-contained, sustainable and transparent electoral system. As such, the importance of accurate and error free electoral rolls cannot be over-emphasized.
---
LEGAL FRAMEWORK
---
According to the Constitution, the Election Commission is responsible for preparation of electoral rolls for election to the National Assembly, Provincial Assemblies and Local Governments and revising such rolls annually. The activities pertaining to preparation, printing and distribution of electoral rolls and revision thereof through related registration process is carried out in accordance with the procedure laid down in the Electoral Rolls Act, 1974 and the Rules framed there under as amended from time to time.
Any person is entitled to be enrolled as voter in an electoral area, if he/she:
a. Is a citizen of Pakistan;
b. Is not less than eighteen years of age and possesses National Identity Card issued by the National Database and Registration Authority (NADRA);
c. Is not declared by a competent Court to be of unsound mind; and
d. Is or is deemed to be, a resident in the electoral area (where he or she wants to be enrolled as a voter).
---
STATISTICS OF FINAL ELECTORAL ROLLS-2018

---
In May, the Election Commission of Pakistan (ECP) published the final electoral rolls ahead of General Elections 2018. According to the rolls, 105.955 million voters will be able to cast their vote in the upcoming elections. Of these, 59.22m are male and 46.73m are females, with the gender gap between male and female rising to around 12.5m.
According to the record, 55.9 per cent of the registered voters in Pakistan are males while only 44.1pc are females.
The numbers are approximately 23 per cent higher than the figures for the 2013 elections when the total number of voters stood at 86.19m.
---
SMS SERVICE FOR VOTERS
---
Continuing with its reform process and in order to facilitate the voters across the country, ECP has launched its 8300 SMS service, whereby a voter could send his/her NIC number from cell phone on 8300 to check his/her voting particulars such as the serial number on the voters' list where his/her name was appearing; polling station location and census block code, etc.
The system was very helpful to voters in 2013, which was used by approximately 55 million voters just a few days before the day of elections.
Details compiled by: Tayyab Younas