Last Updated On 06 June,2018 03:38 pm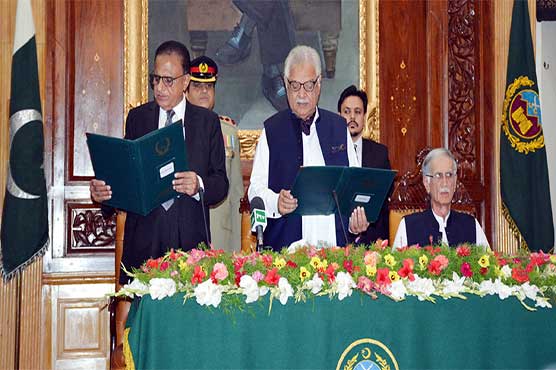 Governor Iqbal Zafar Jhagra administered oath to the interim CM in a ceremony.
PESHAWAR (Dunya News) – Justice (r) Dost Mohammad has taken oath as caretaker Chief Minister of Khyber Pakhtunkhwa today (Wednesday).
According to details, Governor Iqbal Zafar Jhagra administered oath to the interim CM in a ceremony that was attended by speaker Asad Qaisar, Pervez Khattak, Amir Maqam, former members of provincial assemblies and senior lawyers.

Talking to media, newly-elected caretaker CM pledged to form cabinet on merit and also vowed to timely complete the work allotted by ECP and the constitution. Will hold fair elections in the province, he added.

He also assured to provide facilities for the relief of general masses in his brief tenure, adding that step related to the budget will be taken as per law.
It is to be mentioned here that Dost Mohammad's name was suggested by the officials of Election Commission of Pakistan (ECP) during a presser after a six-member parliamentary committee failed to reach consensus.
---
Profile of Dost Mohammad
---
Justice (r) Dost Mohammad was born in 1953 in Bannu. He served as a judge of Supreme Court of Pakistan from February 2014 to March 19, 2018.
---
Also Read: Justice (r) Dost Mohammad appointed as caretaker KP CM
---
He was well known for quick disposal of cases and stance for across the board accountability. As a Chief Justice Peshawar High Court he issued key directions for the recovery of missing persons and hundreds of people were recovered due to his efforts.
He introduced many administrative and judicial reforms in the Peshawar High Court including establishment of Human Rights Cell, mobile courts and Alternative Dispute Resolution (ADR) system.
He was a member of the Supreme Court's special bench which disposed off about 5000 criminal petitions and acquitted many death row inmates. He was widely appreciated among legal fraternity for his landmark verdicts and providing speedy justice to inmates languishing in jails for years.
He remained Chief Justice of the Peshawar High Court from 17 November 2011 to 31 January 2014. He refused to take oath under the Provisional Constitutional Order (PCO) 3 November 2007 and rejected all kinds of offers.
Born on 20th March 1953 in Bannu District of Khyber Pakhtunkhwa, he received his early education from Government High School No. 1, Bannu. He graduated from the Government Post Graduate College, Bannu in 1974 and obtained law's degree from Government Sindh Muslim Law College, Karachi in 1976.
Dost Muhammad Khan began his career as a lawyer in 1976 and served in lower and high courts as well as the Supreme Court of Pakistan. He remained President of District Bar Association, Bannu from1986-87.and President of Peshawar High Court Bar Association D.I. Khan Bench from 1999-2000.
He was appointed as additional judge on 10 September 2002. He was elevated as permanent Judge of the Peshawar High Court on 10 September 2003 and took oath as Chief Justice of the Peshawar High Court on 17 November 2011, where he served for two years and two months, before being elevated to the Supreme Court of Pakistan on 31 January 2014.