Last Updated On 26 May,2018 11:59 pm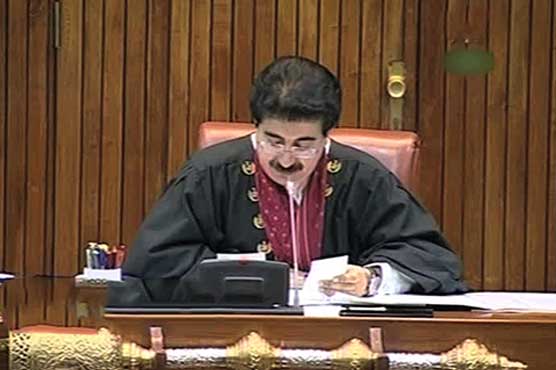 The bill was moved by Law Minister Chaudhry Mahmood Bashir Virk.
ISLAMABAD (Web Desk) – The Constitution Amendment Bill, 2018 for the merger of Federally Administered Tribal Areas (FATA) into Khyber Pakhtunkhwa has been approved in the Senate.

The bill was moved by Law Minister Chaudhry Mahmood Bashir Virk after which the movement to hold amendment in the bill was accepted by the House.

During the session, Jamiat Ulema-e Islami and Pashtunkhwa Milli Awami Party opposed the bill and staged walkout.

It is to be mentioned here that the constitution amendment was passed by the National Assembly on Thursday with two thirds majority.

According to the amendment, the number of seats in Khyber Pakhtunkhwa will increase to 145 to from 124. FATA will be granted sixteen general seats, four seats for women and one seat for non-Muslims in Khyber Pakhtunkhwa Assembly.

Elections to these seats shall be held within one year after the general elections 2018.

The amendment reduces the number of seats in the National Assembly from three hundred forty-two to three hundred and thirty-six. The members of the National Assembly from FATA to be elected in 2018 election shall continue till dissolution of the Lower House.

According to the constitution amendment, the number of seats of Senate has been reduced to ninety-six from one hundred and four. The existing members of the Senate from the Federally Administered Tribal Areas shall continue till expiry of their respective terms of office.

The constitution amendment also envisages amendments in article 246 and repeals article 247 which place the tribal areas under the command and control of president.

Earlier, rising on a point of order, Opposition Leader Sherry Rehman voiced concerns over the construction of Kishanganga dam by India in Occupied Kashmir.

She said India is building controversial dams in the disputed territory in violation of Indus Water Treaty. She said these are also depleting water level in Pakistan. She said the World Bank should play its role on the matter.

Mian Raza Rabbani of Pakistan Peoples Party said India is engaged in incessant unprovoked firing on the line of control and the working boundary which are resulting in the martyrdom of both civilians and security personnel. He said India has also unleashed a wave of terror in Occupied Kashmir.