Last Updated On 22 May,2018 03:34 pm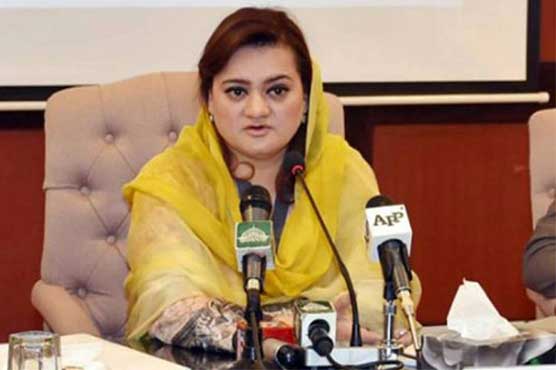 Marriyum Aurangzeb said that to the inefficiency and politics of lies of Imran in 2018 elections.
ISLAMABAD (APP) - Federal Minister for Information and Broadcasting Marriyum Aurangzeb Monday said that Imran Khan should give an account of incompetence and blatant lies to the people in the last five years in Khyber Pakhtunkhwa (KP) instead of giving an unreal and imaginary 100 days programme.
Speaking to the media outside the Accountability Court here, she said the report of United Nations Development Programme (UNDP) is a befitting response to Imran Khan's 100-day programme and the imaginary government that he is dreaming about.
She said the UNDP report tells a horrifying story about bad performance and inefficiency of Pakistan Tehreek-i-Insaf (PTI) in Khyber Pakhtunkhwa. She said people will respond to the inefficiency and politics of lies, false claims and chaos by Imran Khan in the elections of 2018.
She said, "The report about Khyber Pakhtunkhwa is unfortunate. I felt sad after reading the report of United Nations Development Programme as I wanted progress and building of infrastructure, transport projects, schools and hospitals in Khyber Pakhtunkhwa."
She said that Imran Khan should be ashamed about inefficiency of PTI in Khyber Pakhtunkhwa and express shame in a tweet and apologize to the KP people.
The minister said Imran Khan criticized metro bus but then dug up Peshawar for a similar metro bus project which the Punjab government had built along with Orange Line Train and now metro buses were running on dedicated routes in cities of Lahore, Rawalpindi and Multan.
The minister said,"The people of Khyber Pakhtunkhwa are our brothers, sisters and children" and it was sad that injustice was done to them in the last five years. " A few people who are still with Imran Khan due to his false slogans, should read report of the UNDP that tells a horrifying tale about Khyber Pakhtunkhwa."
She said that Muhammad Nawaz Sharif believed in the supremacy of the Constitution and today in respect of law, he stood in the NAB court for four hours to record his statement. Nawaz Sharif checked terrorism in its tracks,, made Pakistan a nuclear power and built infrastructure projects worth billions of rupees in the country, she added.
Marriyum said Nawaz Sharif served as finance minister, twice as chief minister and thrice he was elected as prime minister by the people of Pakistan and history was witness that after two years of references and repeated extensions in the trial, corruption of not even a single penny could be proven against him. NAB filed a reference against Nawaz Sharif for widening of the Raiwind Road, along which hospitals and schools were located and the participants of the "Ijtimah" also passed from that road, she added.