Last Updated On 16 May,2018 10:35 am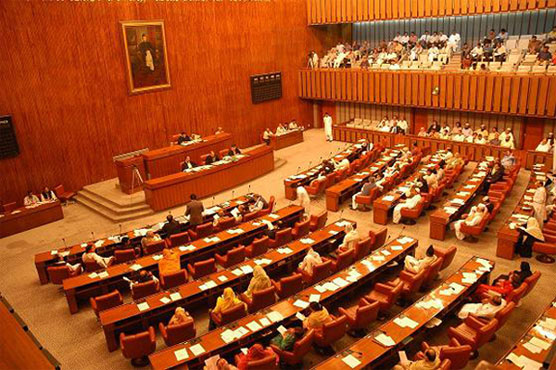 The House strongly condemned the martyrdom of 70 Palestinians by Israeli occupied forces.
ISLAMABAD (APP) - Senate on Tuesday strongly condemned the atrocities committed by Israeli occupied forces against the innocent and defenceless people of Palestine and also rejected the moving of American Embassy to Jerusalem by the United States of America (USA).
The resolution unanimously passed by the Upper House of the Parliament was moved by Leader of the House Raja Muhammad Zafar-ul-Haq. The House strongly condemned the martyrdom of 70 and injuring hundreds of Palestinians by Israeli occupied forces.
The resolution said the moving of American Embassy was a violation of international law and the United Nations Charter, which has sparked a popular uprising.
Resolution says, "Senate reaffirms the support and solidarity of Pakistan to the just cause of Palestine. We also strongly feel it is no coincidence that Israel in occupied Palestine and India in occupied Kashmir are committing crimes against humanity, killing defenceless civilians and willfully viola Resolutions, and both countries are trying to change the demography of occupied Palestine and occupied Jammu and Kashmir."
The Senate of Pakistan salutes the heroism, valour and sacrifices of the people of Palestine, who are resisting the repression of the Israeli occupation army through their blood, sweat and tears, the resolution continues.
Senate urged government to coordinate with the international community to raise these human rights violations globally with a view to seeking a final settlement of both Palestine and Kashmir disputes in accordance with United Nations resolutions.