Last Updated On 11 May,2018 07:18 pm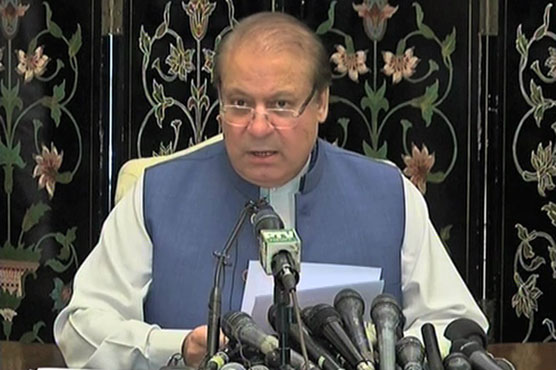 Nawaz presented his concerns over NAB's press release issued on May 8.
ISLAMABAD (Dunya News) – Pakistan Muslim League-Nawaz (PML-N) supreme leader Nawaz Sharif on Thursday asked chairman National Accountability Bureau (NAB) to present evidence in the money laundering allegations against him in 24 hours or tender resignation.
Speaking at a press conference, Nawaz expressed his concerns over NAB's press release issued on May 8. He asserted that NAB chairman has made the former premier's character assassination and media trial his mission.
"I have pointed towards the biased attitude of NAB several times. Chairman NAB's press release confirmed my statements. The report of World Bank was made foundation of the case while distorting the facts," he asserted.
"A three-time prime minister has been accused of transferring $4.9bn to Indian exchequer and committing money laundering. The nature of the allegation is serious and shameful. Ignoring it means to risk the democratic system," said Nawaz.
"It is being said that this amount damaged the national foreign exchange reserves and strengthened Indian ones. Such allegations are unacceptable. The institution established in the name of accountability has become a body of accusations against me," maintained Nawaz.
The PML-N supreme leader went on to say that the NAB references filed against him are also based on media's survey report.
"Many people were included in it but nobody focused on them. When political opponents approached Supreme Court, the petition was dismissed. What happened later that the same plea became significant," he asked.
The former premier affirmed that he will not apologize or ask for mercy if jailed.