Karachiites have shown that MQM is still powerful party: Amir Khan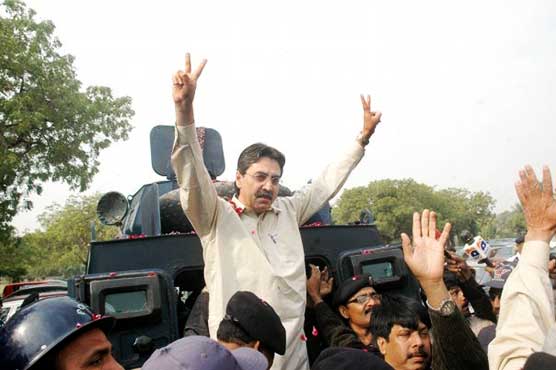 Will come to warn PPP to not hold any rally in this ground in future, Amir said.
KARACHI (Dunya News) – Muttahida Qaumi Movement (MQM) Bahdurabad leader Amir Khan on Saturday has said that the language used by Pakistan Peoples Party (PPP) during its rally is deplorable.
Talking to media, Amir Khan said that Karachiites have told the entire country that MQM is still a powerful party. Differences occurred but now, we are together, he added.

Responding to a question related to who will address the rally as a chairman, Amir Khan said it is possible that he will speak to the participants.
Will come to warn PPP to not hold any rally in this ground in future, he said.
The MQM leader further said PPP conducted rally while keeping in view that MQM is going to divide but it's not right.
On the other hand, both factions of the MQM-P (PIB and Bahadurabad groups) are set to organize a joint power show at Liquatabab's Tanki Ground today (Saturday) in response to PPP's April 29 public meeting at the same venue.
Bahadurabad and PIB factions of MQM-P have on Thursday agreed to mend their deteriorating relations in the wake of successful power show staged by PPP in MQM's bastion Liaquatabad.
The top brass of both factions of the party including Farooq Sattar, Amir Khan and Khalid Maqbool Siddiqui separately visited Tanky Ground on Friday to review preparations for the public meeting.
Flanked by party's members, Dr Khalid Maqbool Siddiqui of the Bahadurabad group told media that August 22 development had shaken the foundations of decades-old party.