Locals stage protest against MQM rally in Liaquatabad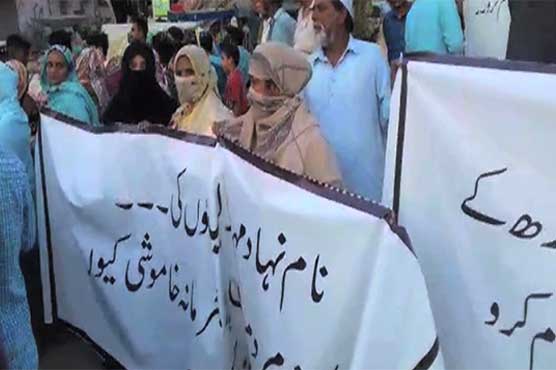 The protesters while holding placards chanted slogans against MQM.
KARACHI (Dunya News) – The locals living in Liaquatabad took to streets against Muttahiada Qaumi Movement (MQM) rally on late Friday.
The protesters, while holding placards, chanted slogans against MQM and said that they don't want this party in Liaquatabad.
---
---
They further asked the reason behind remembering Muhajirs after five years and that why the leaders were silent on biased population census. The residents rejected MQM's rally and also criticized Karachi Mayor Waseem Akhtar for not solving the issues.
---
---
On the other hand, both factions of the MQM-P (PIB and Bahadurabad groups) are set to organize a joint power show at Liquatabab's Tanki Ground today (Saturday) in response to PPP's April 29 public meeting at the same venue.
Bahadurabad and PIB factions of MQM-P have on Thursday agreed to mend their deteriorating relations in the wake of successful power show staged by PPP in MQM's bastion Liaquatabad.
The top brass of both factions of the party including Farooq Sattar, Amir Khan and Khalid Maqbool Siddiqui separately visited Tanky Ground on Friday to review preparations for the public meeting.
Flanked by party's members, Dr Khalid Maqbool Siddiqui of the Bahadurabad group told media that August 22 development had shaken the foundations of decades-old party.