PPP's power show forces factions of MQM to mend fences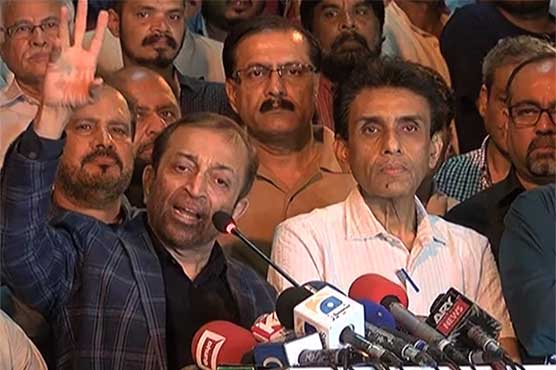 Meeting between Sattar and Khan is underway in Karachi.
KARACHI (Dunya News) – Bahadurabad and PIB factions of Muttahida Qaumi Movement (MQM) have on Thursday agreed to mend their deteriorating relations in the wake of successful power show staged by Pakistan Peoples Party (PPP) in MQM s bastion Liaquatabad, inside-aware told Dunya News.
Sources privy to development stated that heads of MQM-B Amir Khan and MQM-PIB Farooq Sattar met here in Karachi today and decided to mend their relations for greater good of Muhajir community and the party.
Will not accept another MQM-founder under guise of Imran Khan: Bilawal Bhutto

Inside-aware further revealed that politburo of the party had decided to take out a rally before scheduled public-gathering at Tanki ground in Karachi, the bastion of MQM. The public-gathering will be staged on May-5.
The top brass of the party including Farooq Sattar, Amir Khan and Khalid Maqbool Siddiqui will visit Tanki ground at 6PM today.
It is pertinent to mention here that conflicts within the Karachi-based party emanated soon after Farooq Sattar nominated Kamran Tessori for Senate elections.
On April-29, while tagging MQM as Mutaqil Qaumi Musibat [permanent national problem], PPP chairman Bilawal Bhutto Zardari on Sunday vowed to rid Karachi from same.
He was addressing a rally in MQM's stronghold Liaquatabad area of Karachi.
Keeping verbal onslaught up against MQM, Bilawal stated that MQM sowed seeds of hatred premeditatedly in Karachi to halt PPP from making inroads into the metroplis. "The mandate of Karachi has always been hijacked by the gun. PPP isn't party comprising target killers or sector in charges. We are not the one who run city with instructions from London", taunted Bilawal.