Last Updated On 23 April,2018 11:50 am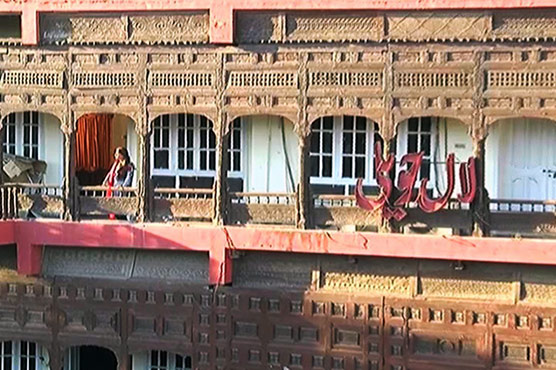 The foundations of this mansion were laid when a Raj Saigol fell in love with a dancer Buddhamai and built this abode for her. Photo: Dunya News
(Dunya News) – A mansion over a hundred years old stands still in the bustling life of Rawalpindi, holding within it many untold stories.
The foundations of this mansion were laid when a Raj Saigol fell in love with a dancer Buddhamai and built this abode for her.
In a perfect blend of architectural beauty, the love of Saigol and Buddhamai still reflects on visitors when they look at the red colour of the building.
Their love story began in Sialkot and ended in this mansion, when Saigol left with his family and migrated to India in 1947 during the Partition.
Distressed over the loss of her beloved, Buddhamai lived the remaining of her life alone in that haveli.
Now the haveli is owned by Pakistani politician Sheikh Rasheed, who recalled having seen Buddhamai on various occasions, staring from her balcony.
"Buddhamai was a dancer, a graceful looking woman. I often used to see her standing on the balcony having her tea," he said.
Previously known as Saigol Haveli, the name changed to 'Lal Haveli' after Buddhamai left mysteriously and never returned.
For more on this, watch a report by Dunya News below.
---
---