Nawaz, Maryam granted one-day exemption from hearing of Avenfield reference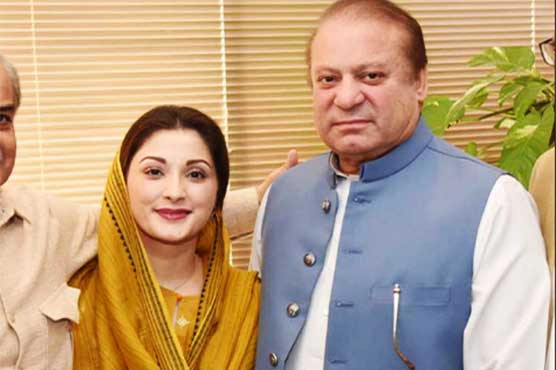 Maryam Nawaz's counsel will continue his cross-examination over JIT head.
ISLAMABAD (Dunya News) – Ex-prime minister Nawaz Sharif and his daughter Maryam Nawaz on Friday have been granted exemption from hearing of Avenfield reference as they could not reach Islamabad due to bad weather.

During the hearing headed by Justice Mohammad Bashir, defence lawyer submitted exemption plea of his clients which was accepted by the court.

It is to be mentioned here that Maryam Nawaz's counsel had started his cross-examination over head of Panama Joint Investigation Team (JIT) Wajid Zia on Thursday.

JIT head told the court that Maryam and Safdar's signatures were present on the trust deed of Nelson and Nescol companies and that no witness had termed the trust deed as fake.
Lawyer further asked when the JIT summoned Maryam Nawaz over which, Wajid Zia said that she was directed to appear on June 25, 27 along with all the relevant data.

Responding to a question, Wajid Zia said that forensic report of Robert Redley was not received until June 25.

Meanwhile, harsh words were also exchange between Amjad Pervez and NAB prosecutor Afzal Qureshi.

SC disqualified Sharif from office in July over unreported sources of annual income of about $10,000, a salary the former premier denies ever receiving. The high court also ordered the NAB to investigate and conduct a trial into the Sharif family's wider finances, including the London properties.
Sharif was also ousted from the presidency of the ruling Pakistan Muslim League-Nawaz (PML-N) party, which elected close ally Shahid Khaqan Abbasi as prime minister after Sharif was disqualified.