Last Updated On 09 April,2018 08:27 pm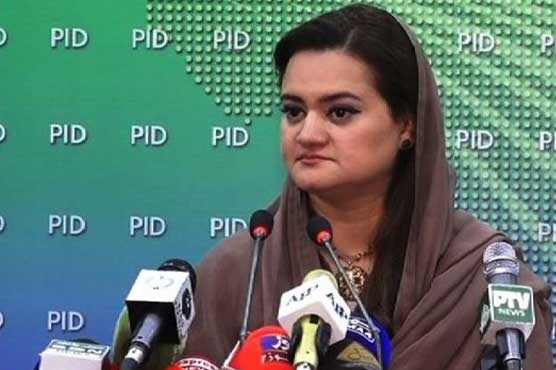 Punjab CM Shehbaz Sharif has worked hard for the development of the southern Punjab.
ISLAMABAD (Dunya News) – Minister of Stated for Information and Broadcasting Marriyum Aurangzeb on Monday lashed out at those who left the ruling Pakistan Muslim League-Nawaz (PML-N).
Addressing a press conference in Islamabad on Monday, she said that those who left the ruling party were temporary who used change their loyalities after seeing the direction of the air.
The state minister said that Punjab CM Shehbaz Sharif has worked hard for the betterment of the southern Punjab, adding that the work of Shehbaz Sharif can be seen in Punjab, while the the work of Nawaz Sharif can be seen through out Pakistan.
"People will reject the turncoats as they are not trustworthy," Marriyum Aurangzeb said and added the PML-N is the largest party of the country and it does not need turncoats.
She said those who change their loyalties have their own interest in mind only, and they do not represent the people.
"They have done nothing in their constituencies even after being given funds for development of areas during the last four and a half year," she added.
Earlier, Pakistan Muslim League Nawaz's (PMLN) six lawmakers of National Assembly, one lawmaker of Punjab Assembly and one independent MPA had tendered resignations and announced to establish 'Southern Punjab Province Front' (SPPF) aimed at making southern area of Punjab a separate province.
The disgruntled members announced that former interim prime minister Balakh Sher Mazari would lead the SPFF movement.
The disgruntled members include Khusro Bakhtiar, Balakh Sher Mazari, Rana Qasim Noon, Tahir Iqbal, Tahir Bashir, Basit Bukhari, Saleemullah and Sardar Nasrullah Khan Dreshak.
Speaking on the occasion, Bakhtiar stated that it was necessary to create new provinces for strengthening the federation. "We should start thinking about the future as southern Punjab tops poverty chart with 51pc rate".
"The recently concluded population census makes it overtly clear that southern Punjab makes 50pc of Punjab's population. Several key politicians are on our back", stated Bakhtiar.