Nawaz declares cases against him 'a pack of lies'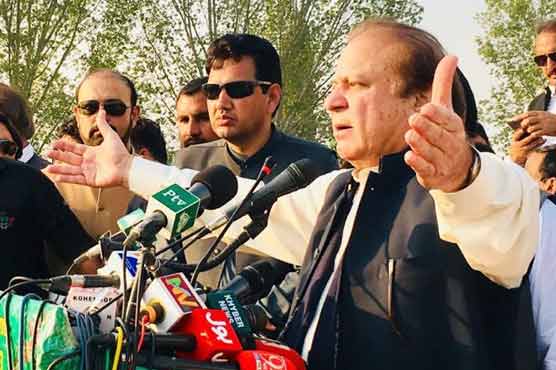 "I am not the one who would retreat," says Nawaz.
FAISALABAD (Dunya News) – Former prime minister and Pakistan Muslim League-Nawaz (PML-N) Quaid Nawaz Sharif on Wednesday while declaring corruption cases against him a pack of lies said that their lie was being exposed in the court on daily basis.
Addressing a charged crowd in Faisalabad on Wednesday, he demanded live coverage of the court proceedings so that the people may know the reality.
"Those who do not know me should know that I am not the one who would retreat," he said and added he would fight injustices against him. "I will not desist from principles," he added.
Nawaz went on to say that he has served the country as much as he could for 30 years. "We have made Pakistan a nuclear state, eradicated loadshedding and construted roads," he added.
I want the poverty to be eliminated from the society, he said and added it was his desire to do something for the youngsters.
The PML-N leader said that Pakistan is the property of 22 billion people, adding that they cannot allow anyone's monoply. "Neither we will let anyone do injustice with Pakistan nor we would allow anyone to trample the vote."
Earlier, addressing the PML-N leader Maryam Nawaz said that the allegations of corruption had been levelled against her father and former premier but he was disqulified for not taking salary from his son.
She said that the masses have taken the responsibility for the sanctity of the vote.
Maryam went on to say that former president General (r) Pervez Musharraf insulted the constitution but he was allowed to go abroad.