Last Updated On 04 April,2018 12:00 pm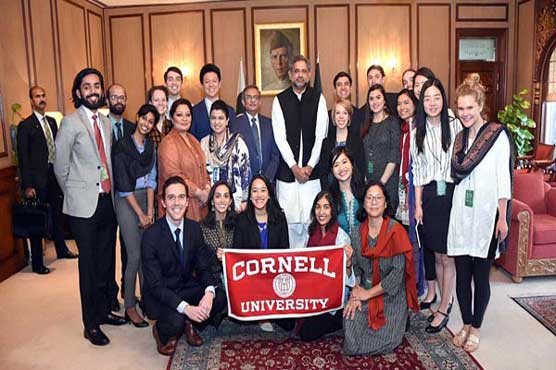 PM Abbasi said thousands of Pakistani civilians and soldiers had been martyred in war against terror
ISLAMABAD (APP) - Prime Minister Shahid Khaqan Abbasi Tuesday said the world must take note of Pakistan's immense sacrifices in the war against terrorism.
He was speaking to a delegation of students from Cornell University USA, one of the world's leading universities and a member of the Ivy League, which visited the Prime Minister's Office here.
Stating that thousands of Pakistani civilians and soldiers had been martyred during the long-running conflict, the prime minister emphasized that the current government had put into effect multiple programmes designed to take the country and the economy onto a positive track.
Special Assistant to the PM (SAPM) Ali Jehangir Siddiqui, Parliamentary Secretary for Ministry of Climate Change Ms Romina Khurshid Alam, and Memeber of the National Assembly Ms Shaza Fatima Khawaja were also present during the interaction.
Discussing infrastructure development projects underway, the prime minister said the government was working tirelessly on providing better development opportunities to the industrial and commercial sectors.
He also shared that the government had established new power plants along with allied infrastructure to meet the country's growing energy requirements.
The prime minister advised the students to visit various cities of Pakistan, experience the nation's rich culture and witness the growth, development and peace that the country had enjoyed in recent years.
The students also received a briefing from SAPM Ali Jehangir Siddiqui regarding the structure and working of the executive branch of the government and Pakistan's external relations.
The visit of the students was under the Prime Minister's Youth Connect Initiative. This provides the students an opportunity to visit the PM Office and interact with the prime minister allowing them to enhance their understanding about the working of the government.