Last Updated On 31 March,2018 03:01 pm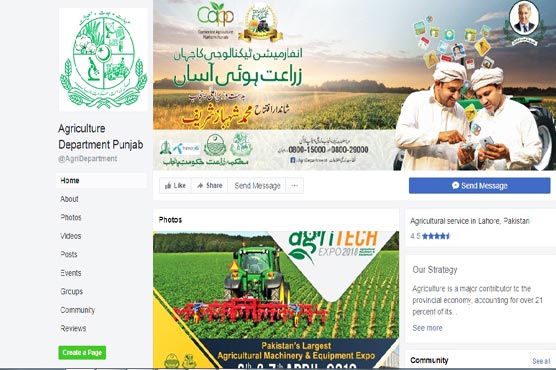 With the page having recently been launched, its popularity can be gauged by the over 1 million likes it has on Facebook. Photo: Agriculture Department's Facebook page
(Dunya News) – Keeping pace with technological advancements, Faisalabad's Ayub Agricultural Research Institute has launched a Facebook page aiming to reach out to farmers with advice and information regarding cultivation and farming.
With the page having recently been launched, its popularity can be gauged by the over 1 million likes it has on Facebook.
In an age where technology is leaving an impact in every field and industry, it comes as no surprise that the agriculture industry in Pakistan is finally making use of it in a bid to generate awareness. The page that has been set up by the provincial agricultural department has created a buzz among farmers.
From cultivation to harvesting of crops to information about fertilisers, pesticides and watering of crops, the page provides advice to farmers on all aspects. Owing to the usefulness of the page, it has managed to garner a widespread following in the agricultural circles on social media.
According to officials, the aim of the initiative was to incorporate technology to educate farmers and help them make use of information coming out of latest research regarding cultivation.
"In future, such initiatives would have a huge impact on the agriculture sectors," said secretary agriculture department Muhammad Mahmood. He said while such projects have already been impacting the agriculture sector in the developed world he claimed that these are expected to leave an ever greater impact on the sector in Pakistan.
Experts say that besides the use of technology, government initiatives should also include on-ground interventions to improve the impact of such online initiatives.
For more on this, watch a report by Dunya News below.
---
---