Last Updated On 16 March,2018 02:58 pm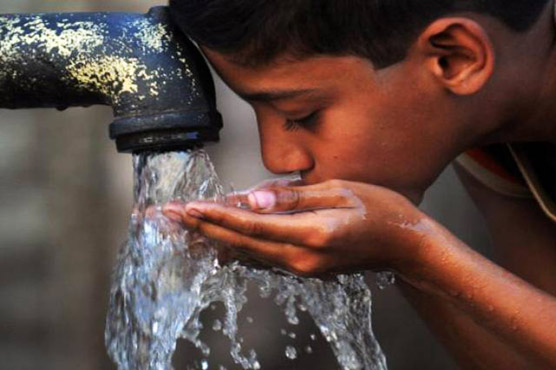 The Pakistan Council of Research for Water Resources says Multan's underground water is polluted to a large extent. Photo: AFP
(Web Desk) – While there is much noise over the Multan Metro Bus project, there is also much criticism over the neglect towards the provision of basic amenities in areas where mega projects are instead being launched.
With election campaigns in full swing, political opponents of the ruling Pakistan Muslim League Nawaz are also hitting hard on these projects. With there being an apparent neglect towards basic facilities including education, health and poverty in these areas, political rivals are launching a tirade against the rulers for ignoring the essentials, especially in the south of the province.
Chief Minister Punjab Shehbaz Sharif claimed that the government was aware of how critical the situation pertaining to the availability of clean drinking water in south Punjab was owing to which last year, the provincial government had announced the initiation of clean water project. But despite the passage of 6 months, the polluted underground water in south Punjab continues to contribute to several health risks and diseases.
According to the Pakistan Council of Research for Water Resources (PCRWR), Multan's underground water is polluted to a large extent and poses serious health risks.
Research Officer of the PCRWR Khursheed Ahmad says the problem is not limited to Multan. He says in south Punjab, the major issue is that of arsenic. "Multan, Bahawalpur, Rahim Yar Khan and Layyah – these are called arsenic rich areas," he adds.
In Tehsil Shujabad, the water supply scheme is 40 years old. Despite several water filter plants schemes having been launched in the area by previous governments, a majority of these failed to function. Locals say several such plants have been installed across the city but none of them are functional.
Former Nazim Shujabad, Ghazanfar Zaman Khan expresses concern over the lack of basic facilities in the area. Khan believes while Orange train may be a good initiative, it does not relieve the government from ensuring provision of basic necessities to people. "We are being shown the way to an airport, but are not being provided basic necessities."
With the issue of polluted water having taken a very serious turn, the Saaf Paani scheme was introduced by the Punjab government a few months ago.
Mujahid Ali Shah, former MPA and leader of the ruling PMLN, says work in Multan on the clean water project has begun. When questioned why the government thought of announcing the project just now – with the general elections scheduled in a few months – Shah said there wasn't enough noise over the issue earlier.
For more on this, watch below a report by special correspondent of Dunya Kamran Khan Kay Saath, Shahzeb Jillani.
---
---