Last Updated On 14 March,2018 10:51 am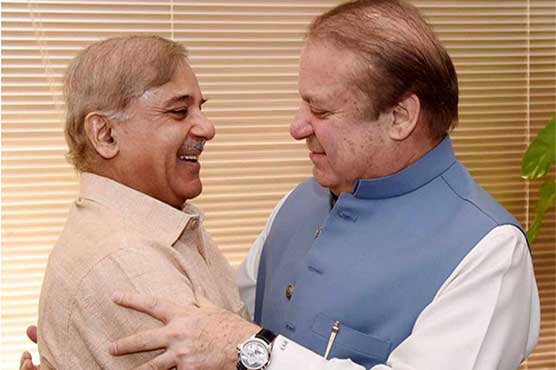 The decision was taken during a session of Central General Council in Islamabad.
ISLAMABAD (Dunya News) – Chief Minister of Punjab (CM) Shehbaz Sharif on Tuesday has been formally elected as president of Pakistan Muslim League-Nawaz (PML-N).
The decision was taken during a session of Central General Council in Islamabad.
Sources told that no one from the party had submitted nomination papers in contest with Shehbaz Sharif. The formal announcement was made in the workers convention.

Addressing the convention, Shehbaz Sharif said that Zardari and Imran cannot beat PML-N, adding that the people of Khyber Pakhtunkhwa (KP) are being deceived on the name of 'Tabdeeli'.

It's a difficult phase for me to handle the party as president but I will carry on under the supervision of Nawaz Sharif, he added.

He said that Nawaz was, is and will remain our Quaid, continuing that no one can image taking his place in the party.

Nawaz Sharif is the only leader who can be declared as political heir of Quaid-e-Azam, he asserted.
Earlier on February 28, Central Working Committee of the ruling PML-N decided to elect Shehbaz Sharif as party's acting president.
The important decision was taken a week after the Supreme Court ordered that ousted prime minister Nawaz Sharif be removed as head of the political party he founded, six months after the court disqualified him as the country's leader over unreported income.

Sharif is also being tried by a separate anti-corruption court on other charges - proceedings ordered by the Supreme Court last July - and could face jail when that trial winds up as soon as next month.

February 21 order overturned a legal amendment by PML-N lawmakers allowing Sharif to remain party president despite being disqualified from public office by the Supreme Court for failing to declare monthly income of 10,000 Emirati dirham ($2,723) from a company owned by his son.

Sharif denies any wrongdoing and has said his family fortune was obtained legally.

Sharif's party retains a majority in the National Assembly and has vowed it will be vindicated in elections held this year, in which his brother Shehbaz Sharif is likely to be the prime ministerial candidate.