Last Updated On 28 February,2018 11:09 am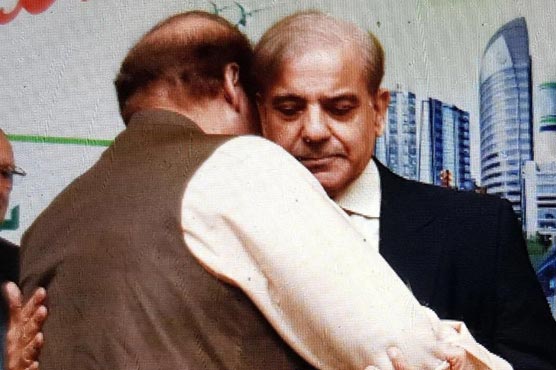 Nawaz Sharif picked Shehbaz Sharif as acting president of the party.
LAHORE (Dunya News) – The Central Working Committee of the ruling Pakistan Muslim League Nawaz (PML-N) has decided to elect Punjab Chief Minister Shehbaz Sharif as party's acting president.
The key meeting was attended by former party president Nawaz Sharif, Prime Minister Shahid Khaqan Abbasi, Maryam Nawaz, Hamza Shehbaz and other senior members of the party.
Nawaz Sharif picked Shehbaz Sharif as acting president of the party.
---
WATCH VIDEO:
February 27, 2018
---
Moreover, decision regarding Shehbaz Sharif's selection as permament president of the PML-N will be taken during the General Council meeting on March 6, souces told.
In a message posted on Twitter, Maryam Nawaz said the PML-N has elected Nawaz Sharif as its 'Quaid' for life.
PMLN elects Nawaz Sharif as its QUAID for life. Raja Zafarul Haq, PM Abbasi & CM SS proposal elicited a resounding approval from CWC.

— Maryam Nawaz Sharif (@MaryamNSharif) February 27, 2018
The important decisions were taken a week after the Supreme Court ordered that ousted prime minister Nawaz Sharif be removed as head of the political party he founded, six months after the court disqualified him as the country's leader over unreported income.
Sharif is also being tried by a separate anti-corruption court on other charges - proceedings ordered by the Supreme Court last July - and could face jail when that trial winds up as soon as next month.
---
READ: ECP bars PMLN candidates from contesting Senate elections under party's capacity
---
February 21 order overturned a legal amendment by PML-N lawmakers allowing Sharif to remain party president despite being disqualified from public office by the Supreme Court for failing to declare monthly income of 10,000 Emirati dirham ($2,723) from a company owned by his son.
Sharif denies any wrongdoing and has said his family fortune was obtained legally.
Sharif's party retains a majority in the National Assembly and has vowed it will be vindicated in elections held this year, in which his brother Shehbaz Sharif is likely to be the prime ministerial candidate.